Jeera Rice is one of the most famous dishes from India. It is like a staple dish that is generally cooked almost daily. It goes well with simple everyday dal or more commonly paired with Dal Tadka.
This post may contain affiliate links· Please read our Privacy Policy for details. You can jump to the recipe, but you will miss the tips and tricks mentioned in the post.  
Jeera means cumin, and I am sharing today a very easy method of making Jeera rice. I make two of these Jeera rice in two ways or rather three ways (If I count the rice cooker method too.) Depending on how I am serving it.
Jeera Rice in Pressure Cooker
Generally for day to day or everyday cooking and when I am in a hurry, I make it in a pressure cooker or the pulav method. In a pressure cooker, I add in the ghee, jeera, rice, water and salt. Take 1-2 whistles and I am done. This is a very quick and easy method and the rice literally gets cooked in max of 10 minutes. Of course, the pressure cooker has to cool down a bit before you can dig it.
Open Pan method – Jeera Rice
The next method is the open pan method. One of our favourites. In this method the rice comes out very fluffy and each grain is separate. In a pressure cooker too we can achieve the same, but we need to be careful of the timing when we open the pressure cooker. This method requires the rice to be precooked in an open pot. Drain and then the tadka with the required spices is made. This method is also good to use your left over rice, that is Jeera rice with cooked rice.
Jeera Rice in Rice Cooker
Another method is when I sometimes use my Rice cooker. This is something put and forget type. In this, I add the rice, water and salt to the rice cooker. Then do a tadka separately and add it to the cooker. Then put the rice cooker in cooking mode and let the rice cooker do the magic. This is good, when you need to make it ahead of time, do not want to babysit, and also want to serve hot rice to your guest. I keep everything ready in the rice cooker. Just 30 mins before serving dinner or lunch I switch on the rice cooker. So you have hot steaming rice ready.
Spices used
I keep my Jeera rice very simple. I just used Ghee (Clarified Butter) and Jeera as the seasoning. As generally, I serve Jeera rice with either good gravy-like mix veg. As I want the flavour of my curry or dal to dominate. However, one can add Bay Leaves, cinnamon and cardamom if required. At times even saffron is added to give a nice beautiful colour and fragrance to the rice.

Dishes with Jeera Rice
This side dish Kongu Thakkali Kuzhambu goes well with Jeera rice. The classic pair of Jeera Rice Dal Makhani is another or simple dal with Jeera rice. I love to make this chaar dal(Mixed Dal) with it.
Tips on making the perfect fluffy Jeera Rice
Quality of Rice
It is advisable to use the best long grain Basmati rice to get the perfectly cooked fluffy texture and non-sticky rice. Good quality rice will expand and fluff up better. Said that you can even get the same using short grain rice but the best results are with Basmati Rice.
Rinsing Rice
The rice needs to be cleaned and thoroughly rinsed before using it. Use your hands to clean the rinse and gently or lightly rub the grains in your hand while you are rinsing the rice. This helps in removing the extra starch and the rice is less starchy.

Soaking Rice
It is always best to soak the rice at least for 30 minutes when making Jeera rice or rice for Biryani or even day to day rice. Soaking rice helps it to swell up and after it is cooked it comes out nice and fluffy. Remember once the rice is soaked, do not scrub it with your hands. The grains after being swelled up are delicate and will break the rice.

Rice to water ratio
This depends on the quality of rice used and also if you are soaking the rice or not. If the rice is soaked and using the pressure cooker method, it is generally 1:1.5 rice to water ratio. If it is not soaked it is 1:2. For the Rice cooker, I always use a 1:2 ratio. When I am using the open pan method I do not follow any specific measurements, as I drain the rice in a colander. So in general I take around 3-4 times of water.
The above ratios are a rough guide. Some rice takes more water and some less. You will understand once you start cooking it or after 1-2 attempts.
Cooking Rice
When making rice using an open pan method it is best to cook the rice like 90-95 per cent and for Biryani around 80 per cent. This will help the rice to be firm and get the restaurant style perfect Jeera rice. The remaining cooking will be done during the tadka or while the biryani is cooking.

Handling Rice once cooked
Once the rice is cooked always be gentle. When using a spoon, be as light as possible. If you apply pressure to remove it the rice will break it. General advice is to use a fork. However for me to handle rice with a spoon is more easy :D.
So here goes the recipe of Jeera Rice

Jeera Rice | Indian Cumin Rice (3 ways)
Jeera Rice is one of the most famous and a staple dish from India, that is generally cooked daily and goes well with dal, curries or as a side.
Print
Pin
Rate
Save
Saved!
Equipment
Open Pan / Pressure Cooker / Rice Cooker
Ingredients
1

Cup

Basmati Rice

1

tablespoon

Clarified Butter

(Ghee)

1

teaspoon

Cumin Seeds

(Jeera)

Lemon juice

(optional)

Salt to taste
Instructions
Clean and rinse the rice nicely. See instructions above on how to rinse the rice.

Soak the rice for at least 30 minutes in normal room temperature water.

Once soaked, drain and give a quick rinse. This step is to just remove any dirt. Here we are not rinsing with hands or anything. Just removing and replacing the water.
Open pan method
In a wide open pan add 4 cups of water.

Cover and let it come to a boil.

One can add a few drops of lemon juice. This helps to get perfect white rice.

Once the water has come to a boil add the rinsed and drained rice.

Let this cook for 5-7 minutes. The rice will cook faster. Keep an eye on it.

You will understand when the rice starts floating on the top.

If you remove one grain and lightly press it against the spoon or your worktop, it will break.

This is a sign when the rice is done.

Cook it only 95 percent. That is grain should be a bit firm and not mushy.

Drain the rice in a colander.

Let it rest for 5 minutes so that the excess water is removed and the rice cooled a bit.

Now in a heavy bottom wok or a kadai add the Clarified Butter ( ghee).

Once hot add the cumin seeds.

Let cumin seeds crackle.

Add rice, salt to taste and gently toss the rice.

Be gentle and slow. The rice will mix and coat the tadka all over.

Serve it hot with curry or dal of your choice.
Pressure cooker or Pulao method
In the pressure cooker wok add the Clarified Butter (ghee).

Once hot add the cumin seeds.

Let cumin seeds crackle.

Add rice, salt to taste.

Add 2 cups of water if the rice is not soaked. If soaked add 1.5 cups of water. If not soaked add 2 cups of water.

Cover the lid and let this cook for 1-2 whistle max.

Switch off and let the pressure settle.

After 10 minutes, once the pressure has settled, open the lid and serve.

Do not cover the pressure cooker tightly or else the rice might turn mushy later.
Rice cooker method
In the rice cooker add rice, 2 cups of water and salt to taste.

Once hot add the cumin seeds.

Let cumin seeds crackle.

Add this to the rice and water mixture in the rice cooker.

Switch the mode to cooking and let the rice cook until done or it goes to the warm mode.

I prefer to remove the top container of the rice and keep it on a cooling rack.

As the heat from the bottom of the rice cooker at times, cooks the bottom layer and sometimes it gets over done.
Notes
1 Cup = 240 ml, 1 tbsp = 15 ml, 1 tsp = 5 ml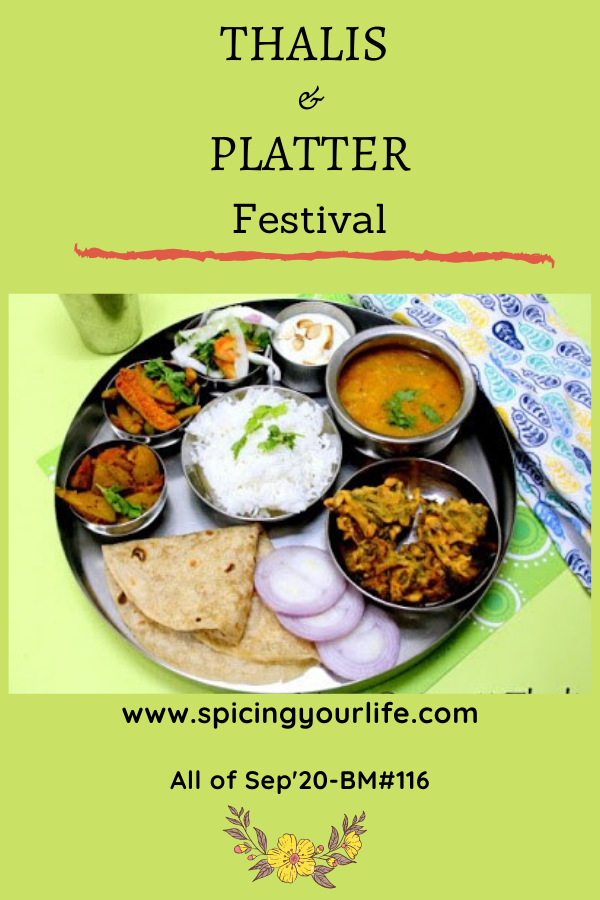 Check out the Blogging Marathon page for the other Blogging Marathoners doing BM#116
Love to read your comments and feedback. If you have any questions please ask in the comment section. I will try to answer as soon as I can.
If you tried this recipe, please comment below, and do not forget to rate the Recipe.
Also, I would love to see your creations, take a picture, and do tag me at @cookwithrenu using the hashtag #Cookwithrenu on Facebook, Twitter, and @cookwithrenu_ad on Instagram.
Subscribe to my email list to get the new recipes straight into your mailbox.