A North Indian Vegetarian lunch thali is a No onion No garlic simple everyday thali. A complete balanced meal of proteins and carbs from nutritious dal, sabji (vegetable), salad, roti and rice.
This post may contain affiliate links· Please read our Privacy Policy for details. You can jump to the recipe, but you will miss the tips and tricks mentioned in the post. 
The carbs would come from simple roti (phulka) and steamed rice. Dals will give the necessary protein intake. One dry vegetable, some simple salad would always be there. Generally, Green coriander chutney or any simple chutney would be there. Sometimes pickle, Curd, Raita would be added to the thali. Chaas or spiced buttermilk at the end, which even helps in digestion.
We do not eat oil-based pickles with curd or chaas. Sweets are not a part of everyday lunch or dinner meal but mostly everyone will have some of the other forms. I prefer to eat simple jaggery at times when I crave sugar, or saunf which helps in digestion as well as satisfy my sugar cravings.

Today I am Sharing our everyday North Indian Lunch thali, I have been grown up eating. This thali was a typical thali where the dal, sabji and salad used to change daily.

To date, this has been my most satisfying and comforting meals of all. Anyday I would eat this to my full satisfaction and have nostalgic memories, where my mom use to cook garam garam (hot) roti(phulka) and we use to wait for our turns to get the roti.
The Theme
Anyways enough of my memories, today I am sharing this lunch thali as I am participating in a new Blogging Marathon hosted by Srivalli from Spice Your life. This marathon was planned months in advance and I was excited to participate. But then I thought it would be too much. But as I have promised and for me promise is a must, I again decided to give it a go in mid Dec-19. I almost finished 18-20 thalis by March first week and then the lockdown started and we all decided to postpone the April Thali Mega BM to Sept.

So after 4 months of not paying attention, in August first week I recompiled my list as I used one or two thali earlier, and decided to give it a go.
Thali Themes for the month
I am starting this Marathon with the first theme, i.e Simple Everyday assembled mini Thalis and I thought of starting this with none other than what I have been grown up eating.
The other weekly themes are:
Thalis featuring Indian Bread
Thalis Featuring Regional Cuisines
Breakfasts from different states
Platters
So my Today's North Indian Vegetarian Lunch thali consist of
Pata Gobi Sabji (Dry Vegetable)
Phulka (Roti) & No oil Lemon pickle
Cucumber, Tomato, Radish Salad
As said the thali is a balance of carbs and proteins. Being a vegetarian proteins from dal is must and here it is provided from Whole green moong dal. The carbs come from rice and roti. Veggies and salad give the require nutrition and adds colour to the plate.
I am sharing the recipes individually for each of the above in Separate posts. For some the recipes would be there, for some I would be adding on so please bear with me.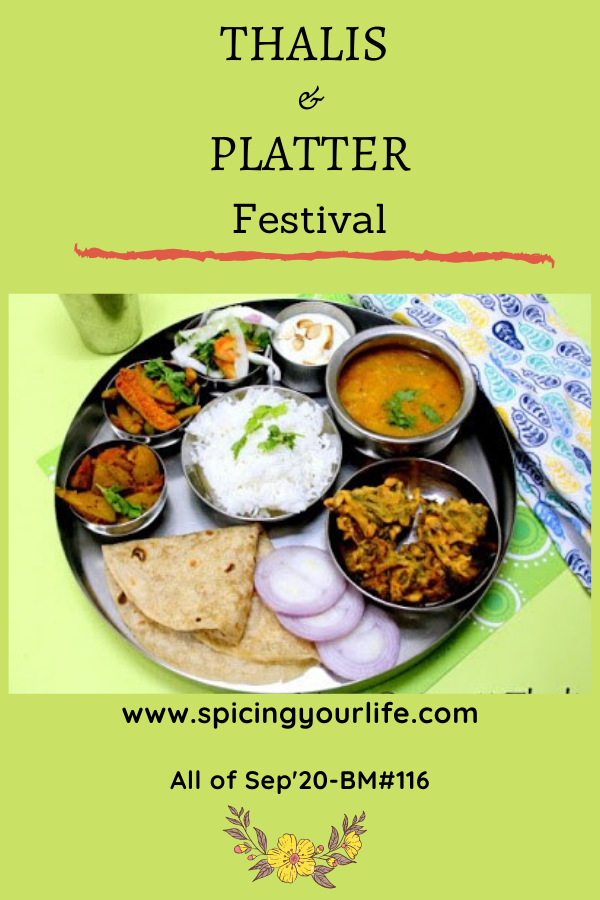 Check out the Blogging Marathon page for the other Blogging Marathoners doing BM#116
Love to read your comments and feedback. If you have any questions please ask in the comment section. I will try to answer as soon as I can.
If you tried this recipe, please comment and rate the recipe. Tag me at @cookwithrenu_ad on Instagram.
Subscribe to my email list to get the new recipes straight into your mailbox.