Summer special Vegetarian Thali is a light and refreshing meal that has the summer special veggies served along with gluten-free and refreshing Takachi kadhi.
Today's Thali
My today's thali consists of simple no onion no garlic bhindi(okra), aloo baingan, watermelon rind sabji (using the white flesh), Takachi kadhi, tomato and roti/paratha.
Takachi Kadhi (Yogurt/curd & Gram flour Soup)
My family loves kadhi and especially the plain one without anything in it. The daughter calls it soup and she enjoys it with roti. I love kadhi in all forms. This Pakodi wali kadhi is my favourite and pairing it with steamed rice is my comfort food.
Sabji/Dry Vegetable
For me kadhi is incomplete without bhindi or baingan. Whenever I make kadhi or either of the veg I pair them along. This time I had both the veggies and decided to combine this into my summer thali.
Watermelon Rind Sabji
I made this thali during summers here. As the Summer season was in full swing, we had loads of watermelon. I try to use the whole watermelon whenever possible. Hence made this watermelon sabji using white rind. And if you are thinking about how can I use the green hard rind of watermelon, check out this Watermelon Rind Sabji using the green part.
This is my second entry for the thali marathon, which is a month-long marathon where we would be sharing different thalis and platters for the whole month except Saturday.

My first thali towards this theme was this North Indian Vegetarian Lunch Thali.
So in Today's Summer Special Vegetarian Thali I have
Bhindi /Okra Sabji (No Onion No Garlic)
PS – As said in my earlier post on North Indian Vegetarian Lunch Thali, I am sharing the recipes individually for each of the above in Separate posts. For some the recipes would be there on my blog, for some I would be adding on so please bear with me.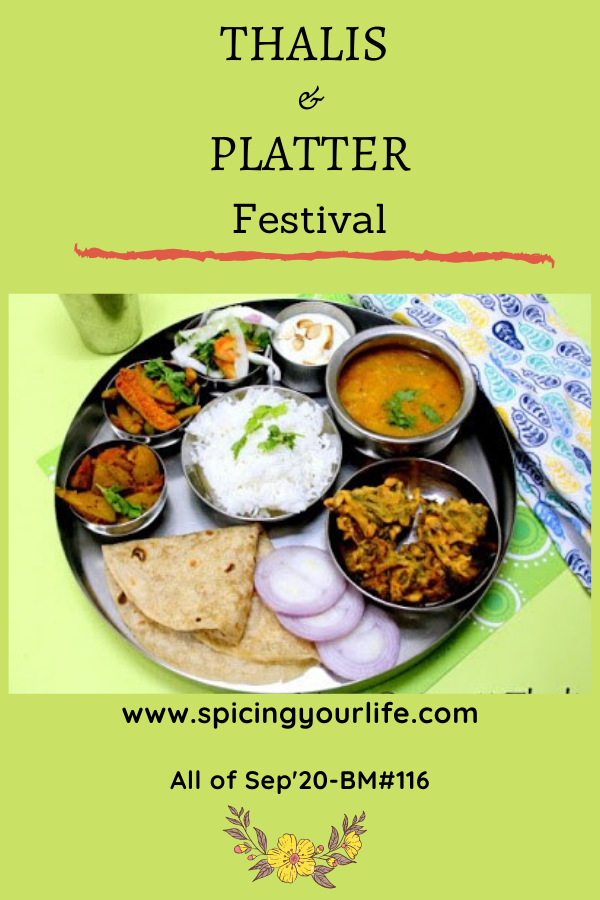 Check out the Blogging Marathon page for the other Blogging Marathoners doing BM#116