Winter Special Dinner Thali is special vegetarian thali that is made using locally sourced organic winter veggies. The thali has all the delicious veggies that help your body provide the necessary warmth during winters.
This post may contain affiliate links· Please read our Privacy Policy for details. You can jump to the recipe, but you will miss the tips and tricks mentioned in the post.   
This is my third entry for the thali marathon, which is a month-long marathon where we would be sharing different thalis and platters for the whole month except Saturday.

Winter Veggies
Today's thali has the goodness of Turnip, Beetroot, Carrot and Kale. Turnips also called Shalgam in Hindi and Beetroot called Chukandar in Hindi are root winter vegetables. They are a good source of nutrition to our body. For both Turnip and Beetroot leaves as well as the roots are edible.

Beetroot Recipes
Beetroot generally all are aware and I use it a lot in my everyday cooking. I love to make this Beetroot Hummus which is used as a dip for my salads. For my main meals, I love to make this simple Beetroot and Carrot Sandwich, Beetroot Puri, Beetroot Idli/Uttapam or this Beetroot Paratha. When everyone has got enough of beet and I want to sneak it in I love to make this Beetroot and Oats Cookies and this Beetroot and Dates Energy Bites.
Turnip or Shalgam
Turnip or Shalgam is a bit new to my kitchen. Yes even though being a North Indian this veggie was not much used in our everyday cooking. However, when I shifted here, I used to see this a lot in the markets. Still, I did not buy it. Then when I started getting veggies from our local farm, I had no option. As they were starting and it was a small start, they provided veggies boxes. In this box, I got this Turnip. So I had to put this to good use and hence I decided to make our Indian style easy Turnip Bharta.

Yes after that I have got turnip multiple times and I have a few more recipes coming up with it. One such easy one and I bet it would also be a favourite among kids. I would be sharing this in this series as a part of the platter. So keep watching this space.
The planning of Winter Special Dinner Thali
As I have to do preparations for the week ahead with my office, I decided to make this winter thali. As I was making the carrot paratha dough for the week ahead I decided to add it in the thali. Vegan Kale, Tofu and corn curry were already prepared the previous day.
I was making Carrot, Beetroot and Horse Gram Sprout Soup and Turnip Bharta for dinner so thought to put it all across as a thali. So I just added a veggie and a soup and a wholesome special thali was ready. And yes we really enjoyed this thali in small portions and it was a complete and satisfying meal for sure.
So in Today's Winter Special Vegetarian Dinner Thali I have
Turnip (Shalgam) Bharta & Curd/Yogurt
Whole Wheat Paratha/Roti
Whole Wheat Carrot Paratha/Roti
PS – As said in my earlier post on North Indian Vegetarian Lunch Thali, I am sharing the recipes individually for each of the above in Separate posts. For some the recipes would be there on my blog, for some I would be adding on so please bear with me.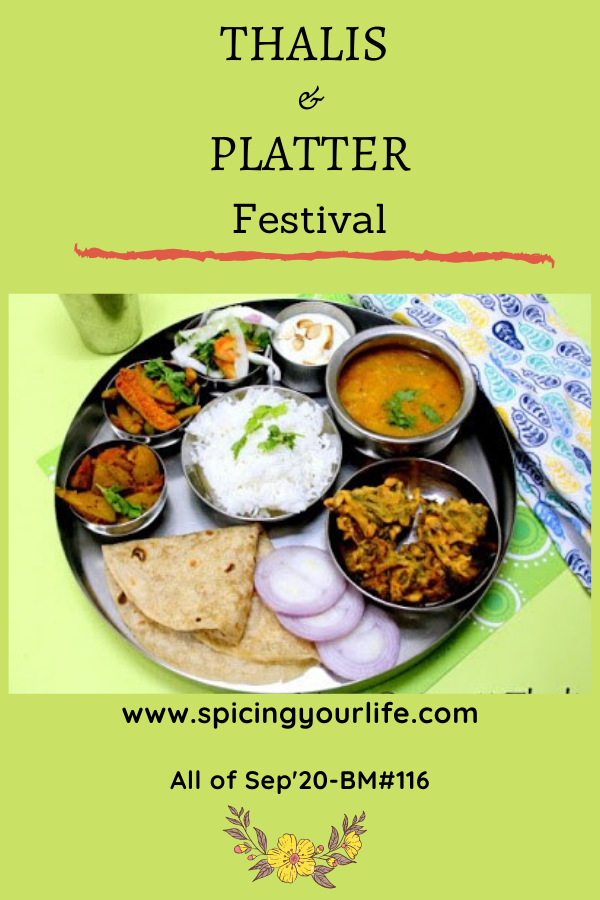 Check out the Blogging Marathon page for the other Blogging Marathoners doing BM#116
If you tried this recipe, please comment and rate the recipe. Tag me at @cookwithrenu_ad on Instagram.
Subscribe to my email list to get the new recipes straight into your mailbox.