Gujarati Thali is a spectacular treat and fusion of sweet, salty, and spicy flavors all combined in a classic Indian Regional thali. A completely balanced meal from the state of Gujarat with rice, rotli, dal, farsan, sweets, chutney, etc
Regional Thalis
This week I am featuring another theme for our month-long BM and the last theme for this series. I am showcasing 4 Regional Thalis. I wish to do more regional thali, but doing a regional thali needs a lot of time and planning. So As of now just kept it to four.
I have chosen the four thalis, of which food is close to me. I have been cooking much of this cuisine and I think you might have guessed it. Keep watching this space for an array of regional thalis coming up.
What is Thali?
Thali or platter refers to different kinds of dishes both vegetarian or non-vegetarian arranged in small katori (bowls). Any typical Indian thali will have roti, rice, sabzi, dal, salad, papad, and chaas/buttermilk. This is our typical day-to-day thali. I have already shared a few everyday thali's here.
More elaborate or typical thalis would be generally made on festive occasions or on gatherings. It would showcase more dishes. Like 2-3 sabzi, gravies of different types, dal, 1-2 rice dishes, sweets, salad, pickles, curd, and some digestive drink like buttermilk/sol kadhi / Jaljeera.

Gujarati Thali & Gujarati Cuisine
A typical Gujarati thali will have rotli/puri, dal, or kadhi, 2 to 3 types of shaak/sabzi, rice/Khichadi, sweet, salad, pickle, snacks, papad, and curd/buttermilk.
Gujarati cuisine is from the state of Gujarat. Gujarati cuisine varies widely in flavour and taste. A mix of sweet, spicy, and salty flavours. Depending on the region, each adds its unique touch. Like the famous Kathiawadi thali.
Even though Gujarat is on the coastline in the West of India, Gujarati food is predominantly Vegetarian. Yes Now you have a mix of all, Vegetarian and non-vegetarian, but traditionally Gujarati food is known to be Vegetarian.
Today's Thali
So coming to today's thali. I am sharing my simple version of Gujarati Thali. It might not be as elaborate as a typical Gujarati will make or might not have all the traditional items. I have purposely kept it light so that we can eat it. We thoroughly loved this thali.
What's in my Thali today?
Gujarati Karela Bateta Nu Shaak – Gujarati Karela Bateta Nu Shaak has a mix of flavors. It has a medley of flavors. The slight bitterness from Karela, sweetness from sugar, and crunch from the cashews. In all, a person who hates karela, like me will start loving it. Try it and I am sure you will be making it again.
Bhindi Nu Shaak – This Bhindi Nu Shaak is similar to my no onion no garlic North Indian version except for minor changes. Like I do not add mustard seeds and cumin powder. But add Coriander powder and whole cloves. I have used my friends Mayuri Di's recipe, Bhindi Nu Shaak's recipe.
Gujarati Kadhi – Gujarati kadhi is one of my favorites. It has the khatta mitha (Sour & Sweet) taste. Sour from the yogurt used and mitha from jaggery or sugar used. The difference in this Gujarati Kadhi(adapted from Mayuri's Jikoni) and my Maharashtrian Takachi Kadhi is first Gujarati Kadhi has some sweet added to it. Then the tadka has cinnamon and peppercorns which I have not added in the Maharashtrian Version.
Puri – I have made 2 types of puris. Sada Puri is made using Whole wheat flour and Masala Puri is made with whole wheat flour and a few spices. I checked recipes online and a quick word from Mayuri Ji to confirm that Gujarati Masala Puri does not have gram flour. So I modified my Misi/Masala puri to make this Gujarati Masala Puri no gram flour is used.
Aamras / Keri no Ras – Keri no Ras or Aaamras is a sweet made using mango pulp. Mayuri Ji from Mayuri Jikoni, told me that, Gujarati Keri no ras has salt, sonth (ginger powder), and ghee in it. However, I was not sure if I would enjoy it with ghee. So I skipped ghee but added sonth and salt.
Homemade Aloo Papad – I generally get this from my mom, but in this lockdown, I tried this at my place. They came out yummy and delicious. (This is not typical Gujarati papad)
Steamed White Rice – Simple Steamed White Rice nothing fancy here.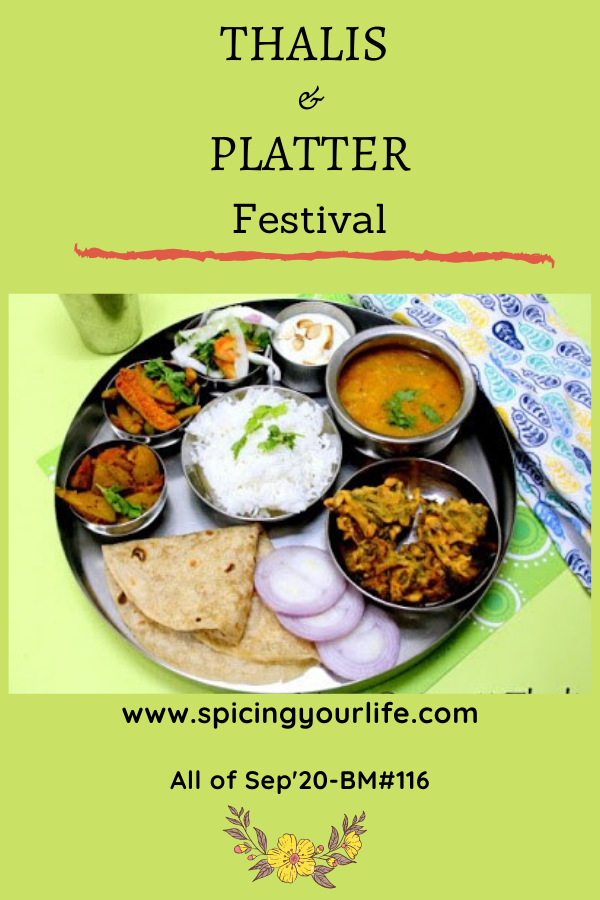 Check out the Blogging Marathon page for the other Blogging Marathoners doing BM#116
If you tried this recipe, please comment and rate the recipe. Tag me at @cookwithrenu_ad on Instagram.
Subscribe to my email list to get the new recipes straight into your mailbox.