Horse Gram Paratha or Gahat ki Dal or Kulith paratha is a delicious and healthy flatbread. It is stuffed with Horse Gram and is nutritious. A filling flatbread from the state of Uttarakhand, India.
This post may contain affiliate links· Please read our Privacy Policy for details. You can jump to the recipe, but you will miss the tips and tricks mentioned in the post

Horse Gram
Horse Gram also known as Ghat ki Daal or Kulith or Kollu or muthira or Hulgate/hulaga or Kulath etc. in different languages in India; It is an excellent source of Iron. Generally used to feed horses and also commonly used in Ayurvedic cuisine. I have already detailed about horse gram in my earlier post on Sprouted Horse Gram Kulith Salad.
It can be consumed in various forms as whole seeds, sprouts or by grinding it into a flour. The daal needs to be soaked for a couple of hours before consuming. Horse gram flour is also widely common and horse gram roti and pancakes are made using it.
I like to make this No Rice Kulith Idli from horse gram, in which I am soaking the dal and fermenting the batter. Another interesting recipe I like is this Horse Gram and Sweet Potato Patties which makes nice Burger Patties for Vegetarian Burgers. It is filling and healthy at the same time and is a nutritious winter food.
Horse Gram outside India is a bit difficult to find. It is generally found in Asian shops, I too have recently found this healthy dal. But you can always try online if you can get it.
Recipe Process of Horse Gram Paratha
So coming to today's recipe of Horse Gram Paratha or Stuffed Gahat ki Dal ke parathe, are healthy parathas or flatbreads which can be enjoyed as a breakfast or as the main meals. As said earlier, it is a stuffed paratha. The dal is cooked, drained and mashed. Few common panty ingredients like ginger, garlic, Turmeric, Red Chilly, Amchur powder (Dry mango Powder) is added to the stuffing. Everything is mixed and stuffed inside the roti or paratha. It is then rolled and shallow fried on a griddle/tawa.
Serving Suggestions
These parathas are best enjoyed hot with yogurt or pickle or simply with a cup of tea. I have served this with Kumaoni Raita, Amla Dhaniya Chutney and Til and Gud ki chikki. Kumaoni Raita is again a delicious and flavourful raita made using cucumber. The distinct flavour in the raita comes from mustard and fenugreek seeds. They are are crushed and added to the raita. I just loved this delicious Kumaoni Raita.
I am sharing this as part of our Thali Mega BM, where this week I am featuring thali with Indian flatbreads. My earlier post in this series was this Rajasthani Dal Baati Churma. Last week I have shared Simple Everyday thali's and you can check all my Thali's here.
Horse Gram Paratha (Gahat ki Dal | Kulith Paratha)
Horse Gram Paratha or Gahat ki Dal or Kulith Paratha is a delicious and healthy flatbread stuffed with Horse Gram and shallow fried.
Print
Pin
Rate
Save
Saved!
Equipment
Mixer Grinder/ Mortar & Pestle
Ingredients
½

Cup

Horse Gram / Kulith / Gahat ki Dal

1

Cup

Whole Wheat flour

1

teaspoon

Turmeric powder

½

teaspoon

Red Chili powder

(as per taste)

1

teaspoon

Cumin seeds

½

teaspoon

Amchur powder / Dry mango powder

¼

inch

grated ginger

(about 1 teaspoon)

2-3

green chillies chopped

(as per taste)

Salt to taste

Water for kneading the dough.

Dry whole wheat flour for dusting

Ghee/Oil for Shallow frying.
Instructions
Making of Dough
Knead the dough using whole wheat flour, salt and water.

Paratha dough should not be too stiff, but a bit soft. Softer dough helps in the stuffing spread out evenly and the parathas rolled out properly.

Let it rest for at least 30 minutes.
Making the Stuffing
Clean and soak the dal for a minimum of 6 hours or overnight.

Drain the water and pressure cook the dal for 3-4 whistles (or depending on your pressure cooker settings) or 8 minutes in Instant Pot Pressure cooker mode or in an open pan until done.

Once the pressure settles or the dal is cooled, drain the water.

Do not discard the water, it can be used as a stock.

Grind the dal using a mortar or pestle or a grinder to a smooth or semi smooth paste.

I like it a bit granular so I have not made a fine paste.

Now add the cumin seeds, turmeric powder, red chilli powder, Amchur powder, grated ginger, chopped green chilli and salt.

Mix everything and keep aside. Let it cool
Making the Stuffed Paratha
Now divide the dough into lemon sized balls.

Usine one of dough balls, roll out a 2-3 inch circular disc.

Apply around ¼ teaspoon of oil/ghee.

Now add around 2 tablespoon of the horse gram dal mixture.

Pull over the dough from all the sides and seal it.

Dip it into the dry whole wheat flour and lightly pat it between your palms so that the dal mixture gets evened out.

Start rolling the paratha to the desired size (4-5 inch diameter). Do not turn in between just keep on rolling the paratha. If required apply dry whole wheat flour in between to roll the paratha's.

Once rolled, put it upside down on a hot greased tawa or a non-stick pan, on slow flame.

Flip it after 50-60 seconds.

Let it cook again on a slow flame for 1-2 mins or until brown spots start appearing all over.

Then apply a little Ghee/oil and cook for a min. Turn, apply Ghee/oil and again cook.

Continue cooking on both sides until golden spots appear on both the sides and the paratha is evenly cooked.

This paratha freezes well and comes in handy on one of those days when you do not want to cook or are unable to cook. Check out how to store paratha's in freezer.
Notes
1 Cup = 235 ml, 1 tbsp= 15 ml, 1 tsp = 5 ml
The dal should be completely drained after cooking. Or else you will have a wet filling.
If your filling is wet, you can dry roast it in a pan.
Paratha dough should not be too stiff, but a bit soft. Softer dough helps in the stuffing spread out evenly and the parathas rolled out properly.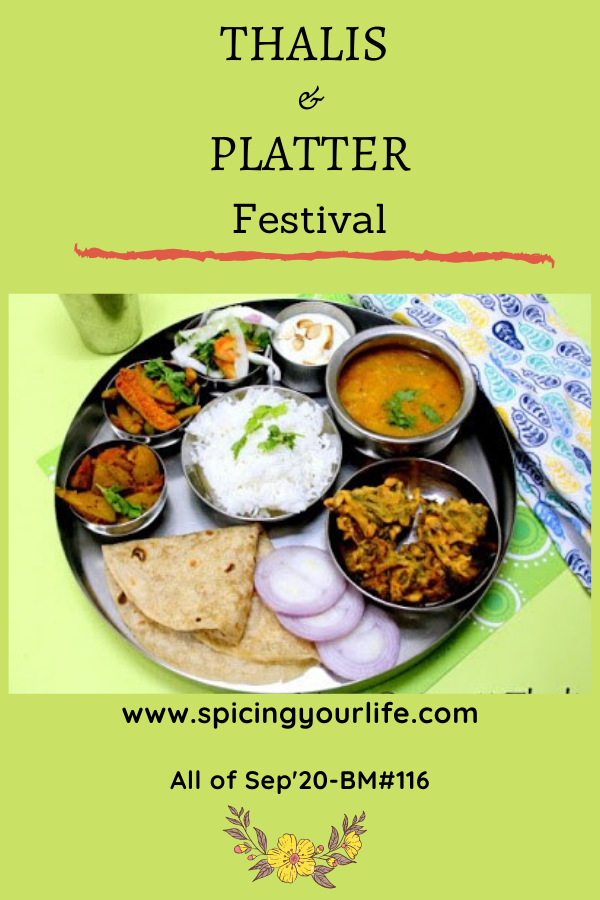 Check out the Blogging Marathon page for the other Blogging Marathoners doing BM#116
If you tried this recipe, please comment and rate the recipe. Tag me at @cookwithrenu_ad on Instagram.
Subscribe to my email list to get the new recipes straight into your mailbox.