Simple Vegetarian Mezze Platter is a party platter with a whole lot of deliciousness served on a plate. It's an easy and fun way to enjoy yourself with family and friends. A mezze platter can have a combination of dips, cheese, chips, bread, fruits, and veggies.
This post may contain affiliate links· Please read our Privacy Policy for details. You can jump to the recipe, but you will miss the tips and tricks mentioned in the post.  

What is a Mezze?
A meze, mezze, or mazza is a small selection of dishes that are generally served as appetizers in some parts of the Middle East. But in a few countries like Lebanon, Greece mezze can be an entire meal.
Food to include in a Mezze Platter
Mezze dishes include cheese, fish, and meat dishes often served with flatbreads. There are Vegetarian Mezze and a combination of non-vegetarian and vegetarian recipes too. Cold cut meats are generally added to the non-vegetarian platter. However, Vegetables are always there. Colourful and loads of vegetables and fruits are always added to a mezze platter.

Mezze is for sharing. So a mezze platter is generally served on a big plate. One can make smaller mezze too, but it is fun to display a big mezze platter.
A mezze platter is not hard to put together. If you are making from scratch as I did, a bit of planning will help you out. You can of course include store-bought dips and bread but making from scratch is fun and healthy.
As said earlier you can include a wide variety of vegetables here. So roasted eggplant, peppers, baked Zucchini, etc can be added with some herbs or spices as a topping. Simple snack cucumbers, tomatoes are a great addition to dips like Hummus or Fresh Greek Tzatziki.
Different types of cheese, like Feta Cheese, mozzarella, marinated olives, stuffed cheese mushrooms, Roasted herb Mushrooms would be wonderful additions to the platter. Baked Falafel, Pita Bread will go well with spreads like Baba ghanoush.

Simple salads are a welcome addition to the platter. So in all the possibilities are endless. Let your imagination go wild and add to it. I am sure you would thoroughly enjoy it.
So my Today's Simple Vegetarian Mezze Platter has
Baked Falafel – I love to make falafel from scratch. It is very easy to make and I bake it instead of frying. Saves me time as well as it is healthy. It is equally delicious and once you start making this baked version you will skip the frying.
Syrian Pita Bread – Love Pita bread. Just stuff anything in this and it goes well as a nice sandwich or a wrap. I have used my recipe of Syrian Pita Bread, but this time I replaced the maida or the all-purpose flour with whole wheat flour.
Baba Ghanoush – A smoky eggplant dip, made using charring eggplant and adding garlic, olive oil, salt, and lemon. Quick and easy to make and goes well with chips and bread.
Hummus – A dip or a spread made using chickpeas. There are different variations to the basic hummus. I do make this Golden Turmeric Hummus and Beetroot Hummus. For today's platter, I have kept it simple and made the basic Hummus with chickpeas.
Spinach and Tomato Salad – A simple and quick salad made using freshly harvested spinach and tomato. A drizzle of olive oil in this salad along with a bit of sumac added to the taste.
Feta Cheese and Stuffed Olives– I have used store-bought cheese and olives here. Just drizzle the cheese with some paprika.
I had some fresh Cilantro so added a few, one can add tomatoes, beans, cucumbers, celery, etc.
So to assemble 1 medium size mezze platter which will serve 2 you need
Simple Vegetarian Mezze Platter
Simple Vegetarian Mezze Platter is a party platter with easy and healthy mezze recipes from Middle East for you to enjoy.
Print
Pin
Rate
Save
Saved!
Ingredients
1

Cup

of Hummus

1

Cup

of Baba Ghanoush

8-10

Baked Falafel

2-3

Pita Bread or Tortilla or Bread of your choice

1

Cup

Spinach and Tomato Salad

Few cubes of Feta cheese or cheese of your choice

Few Olives

Fresh Cilantro/Celery/Cucumber/Baby Tomatoes

Olive oil to drizzle

Smoked Paprika to drizzle
Instructions
On a large plate, in the center add the hummus.

Swirl it with the back of a spoon and add some olive oil and garnish with chopped tomato and olives or cilantro.

Similarly, add the Baba Ghanoush on one side. Swirl it with the back of a spoon and add some olive oil. Garnish it with smoked red paprika.

Make the falafels as per the recipe here and add it to the platter.

Prepare the Pita bread and add it to the platter.

Add the salad, cheese, olives, and cilantro.

Cheese can be sprinkled with some red paprika powder.

If you have more space you can add cucumber, tomatoes, fruits, etc.
Notes
Prep time is mentioned based on everything is prepared and you just need to assemble the platter.
Cook Time will vary based on individual dishes.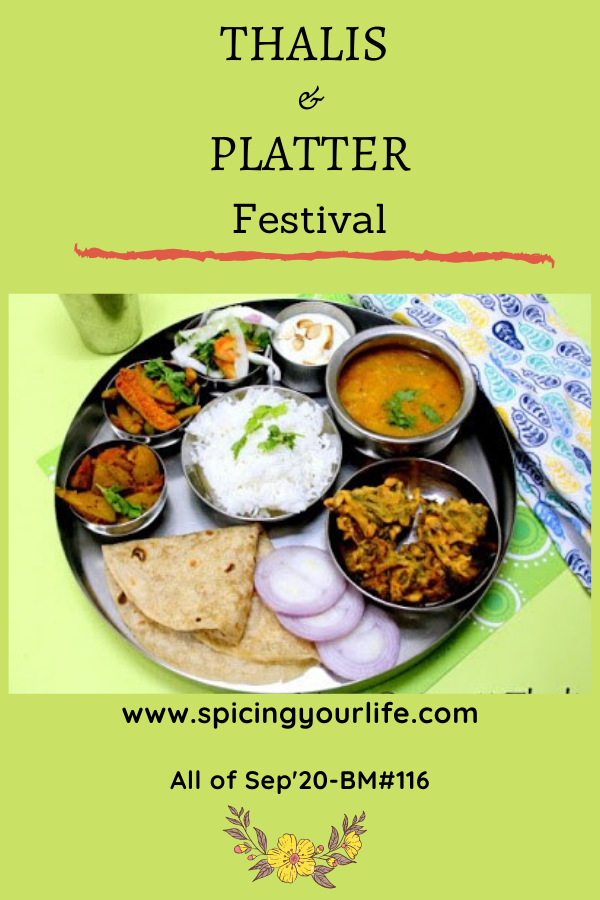 Check out the Blogging Marathon page for the other Blogging Marathoners doing BM#116
If you tried this recipe, please comment and rate the recipe. Tag me at @cookwithrenu_ad on Instagram.
Subscribe to my email list to get the new recipes straight into your mailbox.