So today we are traveling to the state of Maharashtra, to create another yummy and delicious Sweet Stuffed Lentils flatbread, Puran Poli. Generally prepared on special occasions like Holi, Ganesh Chaturthi, Gudi Padwa, Diwali and offered as a bhog.
What is Puran Poli?
Puran simply means the sweet filling which is made of lentils and jaggery. The lentil used in Maharashtrian Puran poli, is made using Chana dal or Split Bengal gram.
Poli means the outer flatbread made using whole wheat flour or all-purpose flour/maida. Traditionally all- purpose flour/maida or a mix of all-purpose and whole wheat flour was used. I have made it using only whole wheat flour.
So now, Maharashtrian Puran Poli means a flatbread made using flour, that is stuffed with a sweet filling made using Chana dal, Jaggery, Nutmeg, and Cardamom powder. It is shallow fried in ghee and even served along with Ghee (Clarified Butter) called Sajuk Toop in Maharashtra.
Different Version of Puran Poli
There are different versions and names of this delicious and healthy Puran Poli across different states of India. In Gujarat, Puran Poli is generally made using Toor Dal instead of Chana Dal. While in other states like Tamil Nadu and Andhra, it is again made with Chana Dal. It is also called Poli/Boli/Ubattu/Obbattu in different states across India. There would be minor changes from state to state depending on the local regional availability.

Puran poli was not a dish that we use to make often or I like it. But my father liked it and my mom used to make it. She even had this puran yantra to make the polis. I have learnt this puran poli from her, which she learnt from our Maharashtrian neighbours. I was always apprehensive of making this, however this was my first attempt and I am glad learned it.
This Gul poli is similar to this Puran Poli, however instead of Chana Dal, Til or Sesame Seeds is used. Another nutritious poli and is commonly made for Makar Sankranti.
Recipe process of Making Puran Poli
The dal is first cooked until it is nice and mushy. Dal can be cooked in a pressure cooker or Instant pot or open pan method. The dal once cooked is drained to remove excess water. That is the dal and the water is separated out. Do not discard the water, it can be used as a stock. Generally, the water is used to make Katachi amti,i.e. A spicy amti or saar or you can call it as a soup. It goes well with puran poli itself or even with plain steamed rice.
The dal mixture is then cooked along with jaggery, nutmeg and cardamom powder on an open pan. The mixture needs to be cooked thoroughly. A general test to see if the puran is done is when a ladle stands straight in the puran.
Once you add the jaggery, the mixture will liquidate and you will have a liquid consistency. Do not worry it will slowly cook and the mixture will thicken. The purapan is then passed through a puran yantra or a sieve.
Once the mixture is cooled, the flatbreads are rolled out. The poli is rolled and the stuffing filled inside it. Try to roll the poli as evenly as possible. It is then shallow fried with ghee and served hot or cold with ghee. One can use ghee while shallow frying or can add the ghee later too. This poli stays good for 1-2 days at room temperature.
Tips on making the perfect Puran
There is a special machine called Puran Yantra which is used to strain the puran. This helps in the dal coming out lump-free and smooth. If you do not have a puran yantra, you can use a regular strainer/seive. I too have used a regular strainer here. The puran needs to be passed through this to get a fine consistency.
The dal needs to be perfectly cooked. It should be soft and mushy. If it is not cooked or has a bite in it, you will not be able to make a smooth consistency puran. It is advisable to soak the dal for an hour, and then cook to get the dal cooked nicely.
Tips on making the perfect Puran Poli
For any paratha or flatbread with stuffing the dough needs to be a bit soft and not on the stiff side. If the dough is proper you will get the perfectly puffed up paratha or poli.
Once you have sealed the dough ball, dust it with a little flour. Then gently tap it in between your hands. This helps the stuffing to even out and helps remove any bubbles if you have in the dough. It also helps in rolling the flatbread evenly.
Rolling and Cooking
While rolling do not flip it again and again. Keep on rolling on the same side. Beginners might need more flour for dusting while rolling. When you are ready to cook on the griddle, put the rolled side down on the tawa. Then cook it for 50-60 seconds, until you see small brown spots appearing at the bottom. Now flip and let it first cook for 1-2 minutes until you see bubbles appearing on the top or more brown spots coming on the bottom. The second time cooking is a bit more. This helps in getting the perfect fluffy paratha/flatbread/poli. Now cook with or without ghee until golden brown from all sides or perfectly cooked. Store the polis in a muslin cloth.
Generally, I use my hand while flipping, but as this has jaggery stuffed in it, it is advisable to use a spatula to flip over. Sometimes the jaggery might leak or come out and you might burn your hand.
Let me know if you have any further questions in the comments below, I will try to answer that.
I am sharing this as a part of my Our BM Thali marathon, where this week I am featuring thalis with Indian flatbreads. This is my third post on this. I have shared earlier Rajasthani Dal Baati Churma, Horse Gram Stuffed Paratha.
Last week I shared Simple Everyday Thali's and you can check all my Thali's here.
So here goes the recipe of Puran Poli (Sweet Lentils Flatbread)
Puran Poli (Sweet Lentils Flatbread)
Puran Poli is a delicious sweet Lentils Flatbread from the state of Maharashtra made during special occasions like Holi, Gudi Padwa etc.
Print
Pin
Rate
Save
Saved!
Ingredients
For Puran
1

Cup

Chana Dal / Split Bengal Gram

1

Cup

Crushed Jaggery / Gur / Gud

¼

teaspoon

of Nutmeg powder or grated Nutmeg

¼

teaspoon

of Cardamom powder
For the Dough
2

Cup

Whole Wheat Flour

1

tablespoon

oil

A pinch of turmeric – optional

Salt to taste

Water for kneading the dough

Extra dry flour for dusting

Ghee to shallow fry and serve.
Instructions
For Puran
Clean and soak the chana dal in enough water for 1 hour.

Drain the water and give it a quick rinse.

Now add around 3 cups of water, turmeric and pressure cook it for 3-4 whistles until soft or mushy. (This might change depending on your pressure cooker)

For Instant pot; it will take around 10 minutes of pressure cooking.

In the meantime, in a wide bowl add the flour.

Add oil, a pinch of turmeric, salt and knead it to a semi soft dough. The dough should not be tight. Knead the dough well for 3-4 minutes.

Once the dal is done and pressure from the cooker is settled, remove the dal.

Strain the dal and separate the water. Water can be used for stock or Katachi amti.

In a pan add the cooked dal and jaggery.

On a slow to medium stove,let this mixture cook together stirring in between.

The jaggery will melt and the mixture will liquidate at times. Do not worry it will slowly thicken up.

Once the mixture starts thickening, toward the end add the nutmeg and cardamom powder.

The mixture is done when a ladle stands straight in the mixture.

Keep pressing it with the help of a ladle.
Making of Puran Poli
Divide the dough into lemon size ball.

Either you can divide the puran too and make balls, or directly stuff it. I like to use the second method, but today for my readers I have done the first, that is made balls from it.

Generally twice the amount of stuffing is added in each dough ball.

Roll the dough into 2-3 inch circular disc.

Apply around ¼ teaspoon of oil/ghee.

Now keep the puran ball in the center.

Pull over the dough from all the sides and seal it.

Dip it into the dry whole wheat flour and lightly pat it between your palms so that the dal mixture gets evened out.

Start rolling the poli to the desired size (4-5 inch diameter). Do not turn in between just keep on rolling. If required apply dry whole wheat flour in between to roll.

Once rolled, put it on a hot greased tawa or a non-stick pan, on slow flame, with rolled side down on the tawa.

Cook it for 50-60 seconds, until you see small brown spots appearing at the bottom.

Now flip and let it first cook for 1-2 minutes until you see bubbles appearing on the top or more brown spots coming on the bottom.

Now cook with or without ghee until golden brown from all sides or perfectly cooked. I prefer cooking it with ghee.

Store the polis in a muslin cloth.
Notes
1 Cup = 235 ml, 1 tbsp= 15 ml, 1 tsp = 5 ml

I have not added any oil in the dough, but you can add around 1-2 teaspoon if required.
YouTube Channel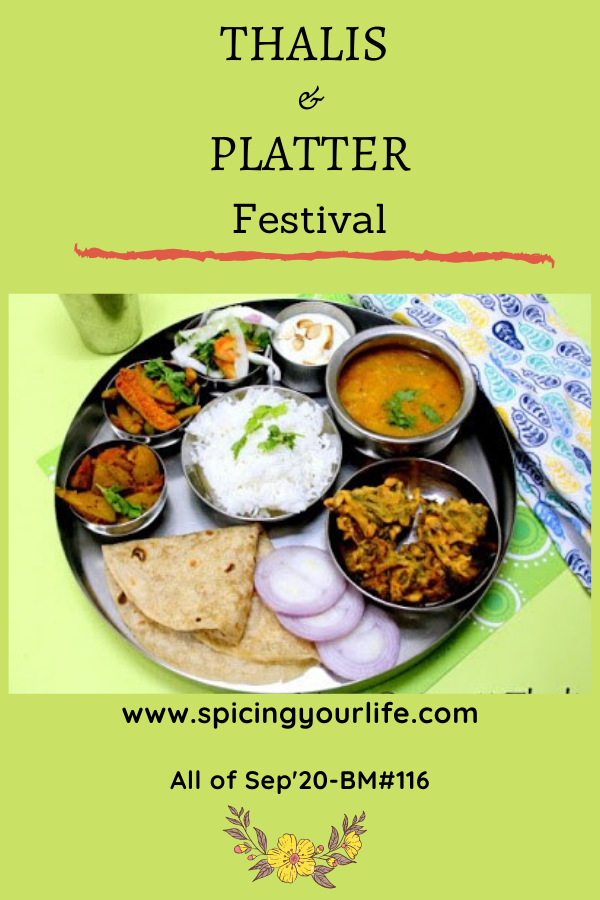 Check out the Blogging Marathon page for the other Blogging Marathoners doing BM#116
If you tried this recipe, please comment and rate the recipe. Tag me at @cookwithrenu_ad on Instagram.
Subscribe to my email list to get the new recipes straight into your mailbox.