So today we are travelling to the state of Bengal to present yet another lip-smacking thali, Bengali Breakfast Thali. This vegetarian no onion no garlic thali has its most famous Koraishutir Kochuri, Niramish Aloo Dum, and Mishti Doi.

This post may contain affiliate links· Please read our Privacy Policy for details. You can jump to the recipe, but you will miss the tips and tricks mentioned in the post.  
Bengali Cuisine
Bengal is the region in the eastern part of the Indian subcontinent. Due to Bengal's location within the Ganges delta, fish and rice is one of its staple foods. Vegetables too are popular throughout and the use of Mustard oil is a must in Bengali cooking.
Panch Phoran – the five spice powder
A popular spice powder called Panch phoran is made using the five spices. This is commonly used in many recipes. It uses normal spices available in the Indian pantry. I have details about this spice powder and the way of making it in Mizoram's Panch Phoran Tarkari, which has a close resemblance to Bengali cuisine.
Few Bengali Recipes
Poppy seeds recipes like aloo posto are quite common and Luchi is their favorite puri amongst others. Baingan bhaja is another such famous dish made using eggplant. They love their khichadi and have a unique style of preparation. Like in this Bhoger Khichuri where the moong dal and rice are first roasted and then cooked. Something different. It uses a lot of spice and is generally prepared on festive occasions. One more such no onion no garlic dish is this Niramish Aloo Dum , which is another lip-smacking preparation using baby potatoes. Generally enjoyed with Luchi or Koraishutir Kochuri.
Chenna or paneer based sweets are quite popular in Bengal and famous throughout India. Bengali Rasgulla , Chum chum, Rasmalai, Sandesh are a few famous sweets.
So today's Bengali Breakfast Thali features –
Koraishutir Kochuri
Koraishutir Kochuri or motor shutir kochuri is a kochuri or kachori made using green peas stuffing with a few spices. This is not a typical kachori like the North Indian kachori which is crispy and flaky on the outside and soft inside. This is something like a stuffed puri. The outer covering is soft as well.
Typically Koraishutir Kochuri is made using all-purpose flour/Maida. As I have reduced the use of maida and I never make puris with maida, except for Bhatura, I have made this kochuri with whole wheat flour or atta. Hence you can see that my puris color is not very green as it gets masked by the atta.
I made this thali back in January, but I redid this last week as I was not happy with the kochuri I made earlier. The stuffing did not turn out good and the pics too. But this time, I learned from my mistakes and the kochuri came out just perfect.
I have served this Kochuri with spicy and yummy, Niramish Aloo Dum. Niramish means no onion, no garlic, and this gravy generally is made using baby potatoes. However, the baby potatoes which we get here are no baby :D, i.e. the size is big, so I have used those, but cut them into small sizes. You can check my post for more details on this recipe.
The sweet here is Mishti Doi. Mishti Doi is nothing but Sweetened yogurt. That is yogurt made using milk, jaggery, and yogurt culture. A very famous sweet from the state of Bengal. Bhapa Doi is another similar yogurt based sweet made, but the difference here is that Bhappa means steamed. That is the yogurt is steamed and set as opposed in Mishti Doi, where it is set like normal yogurt.
All in all this Bengali Breakfast thali is a comforting and filling meal that can be enjoyed for Sunday Brunch. I am sure you would be addicted to the Kochuri and the Mishti Doi.
I am sharing this Bengali Breakfast Thali, as a part of the Breakfast Series for the month-long BM. In this series, I have shared this Gobi Paratha (North Indian Breakfast Thali), South Indian Breakfast Thali, Jharkhand Breakfast Thali featuring Chilka Roti and Goan Breakfast thali featuring Chanya Tonak in Instant pot. My earlier theme was on Indian Flatbreads and Everyday Thalis.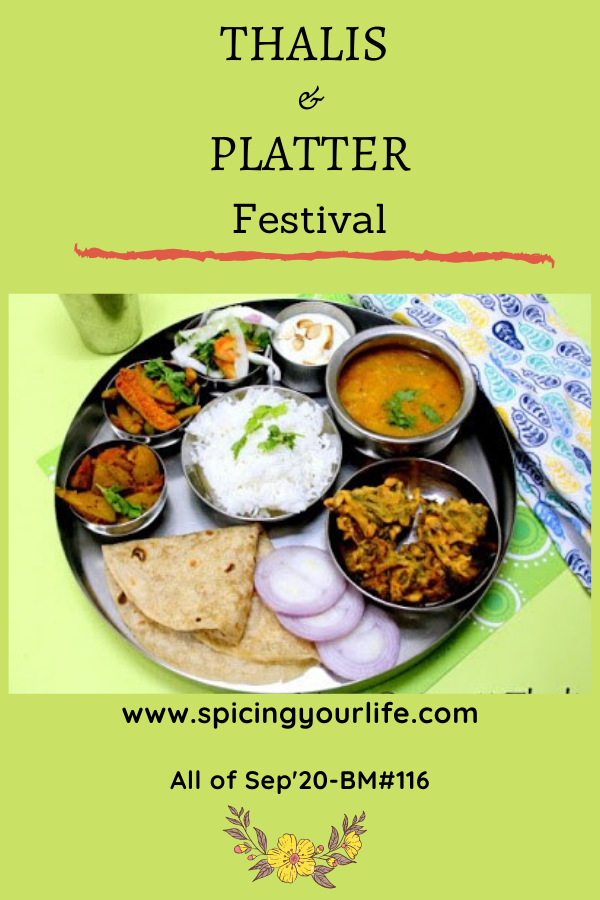 Check out the Blogging Marathon page for the other Blogging Marathoners doing BM#116
If you tried this recipe, please comment and rate the recipe. Tag me at @cookwithrenu_ad on Instagram.
Subscribe to my email list to get the new recipes straight into your mailbox.