This South Indian Breakfast thali is a lip-smacking delicious thali, perfect for all ages and a complete balance of carbs and proteins.
This post may contain affiliate links· Please read our Privacy Policy for details. You can jump to the recipe, but you will miss the tips and tricks mentioned in the post

As much as I love my parathas and chilas, I love Idli and Dosa. Breakfast for me is incomplete without south Indian Idli and dosa. And when I am sharing a breakfast thali series, this South Indian Breakfast thali had to feature in it.
Mini Tiffin or Mini Breakfast Thali
This might not be as elaborate Breakfast thali as generally served in South India. For me, this is a mini South Indian Breakfast Thali or a Mini Tiffin. I call it mini, as I have just included 1 chutney and 1 sambar. Generally, a south Indian Thali would have 2-3 different chutneys.
For us, this is a complete breakfast with recipes each and everyone like. Some like vada, some idli, and some dosa or uttapam. For the sweet here I have included Beetroot Halwa as I had beetroot in plenty during winters and decided to make good use of it. Though we enjoyed this as a lunch instead of breakfast, we thoroughly loved it.
Batter for Idli, Dosa and Uttapam
I make the same batter for Idli, Dosa, and Uttapam. Yes, this might not be traditionally followed but for me, this is easier and I love it. I make the batter at once. I make Idli on day one. Dosa the next day. And if we are bored with Idli or Dosa we go for Uttapam, which can be tomato or onion. So In all one batter and I am hitting 3 different meals for 3 different days. I would say such recipes are a must for a working mom.
Fermenting Idli Dosa batter in a cold climate
If you are struggling with fermenting Idli Dosa batter at home, especially when you are living in a cold climate, check out my detailed post on fermenting tips for Idli Dosa Batter in Cold Climate.
I am sharing this South Indian Breakfast Thali, as a part of the Breakfast Series for the month-long BM. Earlier I shared this, Jharkhand Breakfast Thali featuring Chilka Roti and Goan Breakfast thali featuring Chanya Tonak in Instant pot. My earlier theme was on Indian Flatbreads and Thalis.
So today's South Indian Breakfast Thali features :
Idli – This is a simple rice and lentil Idli served on this platter. However, I have more than 10 Idli recipes on my blog. Few of them are no rice Idli.
Onion Uttapam – I have made mini uttapam for the thali and topped it with some onion. They are made a bit thick and have a soft texture, but crispier base.
Sambar – This sambar is without any vegetables the way my family likes. Made with homemade sambar masala , we love our Idli and Vada dunked in this piping hot sambar.

Pin it for Later –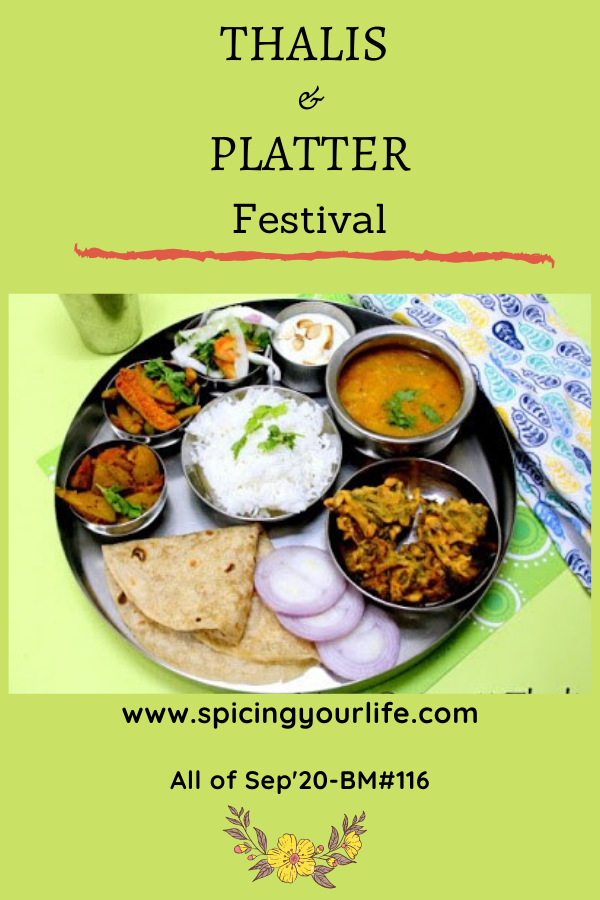 Check out the Blogging Marathon page for the other Blogging Marathoners doing BM#116
Love to read your comments and feedback. If you have any questions please ask in the comment section. I will try to answer as soon as I can.
If you tried this recipe, please comment and rate the recipe. Tag me at @cookwithrenu_ad on Instagram.
Subscribe to my email list to get the new recipes straight into your mailbox.