Gobi Paratha is a healthy breakfast and lunch box recipe where the paratha or the flatbread is stuffed with gobi i.e. cauliflower and a few spices. It is a popular paratha recipe from the North of India and especially Punjab after the famous Aloo Paratha and Paneer Paratha.
This post may contain affiliate links· Please read our Privacy Policy for details. You can jump to the recipe, but you will miss the tips and tricks mentioned in the post

Paratha for Breakfast, Lunch and Dinner
Being a North Indian, I have grown up eating parathas and rotis for breakfast. Simple plain paratha or roti or chapati as you call it, along with tea was our go-to breakfast daily before starting our day. Even lunch boxes used to be some kind of parathas for us or roti/chapati with bhaji.
This practice still continues and I explore different types of parathas. If I get some new vegetables, and I am not sure what to make, I make parathas from it. Like a South Indian makes chutney from every vegetable, a North Indian will make paratha :-). I have made kale paratha, Turnip paratha, Avocado Paratha, and many more which I even do not remember now.
We get a big head of cabbage here and it is difficult to consume even if I make bhaji 2-3 times. So I make Cabbage paratha or thepla. A good way to sneak in the veggies. Another favorite of ours is Beetroot paratha and Palak Paratha or thepla.
Ways of making Stuffed Cauliflower Paratha
So coming to today's recipe of stuffed cauliflower paratha, there are two ways of making this. Either you can simply grate the cauliflower, add spices and stuff it in the paratha. The other way which I am making today is to slightly cook the cauliflower along with the spices. This helps the stuffing to get slightly cooked and mask the cauliflower taste.
Similar to stuffed cauliflower paratha, I make this Broccoli and Paneer Paratha. I add paneer here as at times kids do not like broccoli and paneer along with broccoli mask the taste. However, I have not cooked broccoli. So if you want to make the cauliflower paratha, you can use this process to make it.
Since this is a breakfast week for our BM thali series. I thought of adding one paratha thali from North India. Yes, I have already shared different flatbreads last week but still thought of adding one more. Earlier I have shared simple everyday thalis.
Serving Suggestions
These parathas are a famous breakfast or lunch from the North of India and especially Punjab. I have served this paratha with achaar (pickle), lassi, and simple Mooli/Radish Salad. You can simply enjoy this with tea or yogurt too.
Generally salad is not served for breakfast. We had it for lunch too and hence I added it.
Freezing and Storing
This parathas freeze well too. I had a few extra and so I made them and froze them. When you want to eat these parathas, either warm them in a microwave or cook them directly on a tawa/griddle without defrosting. If you are looking for ways to freeze parathas, check out my detailed post on how to Freeze Parathas/Store Parathas.
Todays recipe of Gobi Paratha | Stuffed Cauliflower Flatbread
Gobi Paratha | Stuffed Cauliflower Flatbread
Gobi Paratha is a healthy breakfast and lunch box recipe where the flatbread is stuffed with gobi i.e. cauliflower and a few spices.
Print
Pin
Rate
Save
Saved!
Ingredients
For the Dough
2

Cup

Whole Wheat flour

Salt to taste

Water for kneading the dough.
For Stuffing
1

Cup

Grated Gobi/Cauliflower

2-3

green chillies

(as per taste)

1

teaspoon

oil

1

teaspoon

cumin seeds

A pinch of asafoetida

½

inch

grated ginger

(about 1 tablespoon)

1

tablespoon

Coriander Powder

1

teaspoon

Amchur Powder

(Dry mango powder)

2-3

tablespoon

fresh chopped coriander

Salt to taste

½

teaspoon

Red Chili powder

(as per taste)
For Making the Parathas
Dry whole wheat flour for dusting

Ghee/Oil for Shallow frying.
Instructions
Dough
In a large bowl, add the whole whole wheat flour and salt.

Knead the dough with the help of water.

Paratha dough should not be too stiff, but a bit soft. Softer dough helps in the stuffing spread out evenly and the parathas rolled out properly.

Let the dough rest for 20-30 minutes.

I do not add oil in my dough, you can add if required.
Stuffing
Clean and rinse the cauliflower.

Grate it using a grater or finely process using a food processor.

Once hot add the asafoetida and cumin seeds and let it splutter.

Now add the coriander powder, amchur powder and give a quick mix.

Next add in the grated cauliflower, coriander and salt and mix everything.

Now add the green chilly, and red chilly powder (I have added it at end)

Let this cook for 3-4 minutes.

Switch off and let the mixture cool completely.
Making the Parathas
Now divide the dough into lemon sized balls.

Usine one of dough balls, roll out a 2-3 inch circular disc.

Apply around ¼ teaspoon of oil/ghee.

Now add around 2 tablespoon of the cauliflower mixture.

Pull over the dough from all the sides and seal it.

Dip it into the dry whole wheat flour and lightly pat it between your palms so that the dal mixture gets evened out.

Start rolling the paratha to the desired size (4-5 inch diameter). Do not turn in between just keep on rolling the paratha. If required apply dry whole wheat flour in between to roll the paratha's.

Once rolled, put it on a hot greased tawa or a non-stick pan, on slow flame.

Flip it after 50-60 seconds.

Let it cook again on a slow flame for 1-2 mins or until brown spots start appearing all over.

Then apply a little Ghee/oil and cook for a min. Turn, apply Ghee/oil and again cook.

Continue cooking on both sides until golden spots appear on both the sides and the paratha is evenly cooked.

This paratha freezes well and comes in handy on one of those days when you do not want to cook or are unable to cook. Check out how to store paratha's in freezer.
Notes
1 Cup = 235 ml, 1 tbsp= 15 ml, 1 tsp = 5 ml
Paratha dough should not be too stiff, but a bit soft. Softer dough helps in the stuffing spread out evenly and the parathas rolled out properly.
If you are not cooking the stuffing, add the salt in the mixture just before starting to make it as it will release water.
If using Oil, this would be Vegan
Please check my earlier post on Horse Gram Paratha for step by step pictures on how to Stuff and cook the parathas.
Linking this with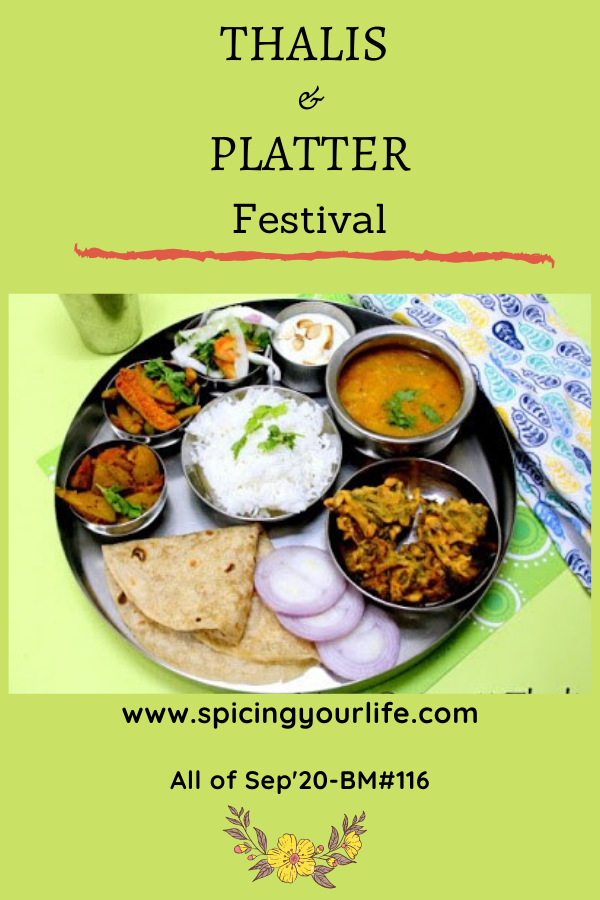 Check out the Blogging Marathon page for the other Blogging Marathoners doing BM#116
Love to read your comments and feedback. If you have any questions please ask in the comment section. I will try to answer as soon as I can.
If you tried this recipe, please comment below, and do not forget to rate the Recipe.
Also, I would love to see your creations, take a picture, and do tag me at @cookwithrenu using the hashtag #Cookwithrenu on Facebook, Twitter, and @cookwithrenu_ad on Instagram.
Subscribe to my email list to get the new recipes straight into your mailbox.