Takachi Kadhi – Maharashtrian kadhi is a light and refreshing curry or soup. It is made using yogurt as the main ingredient along with besan (Gram flour). Light on the tummy and a perfect during summers.
This post may contain affiliate links· Please read our Privacy Policy for details. You can jump to the recipe, but you will miss the tips and tricks mentioned in the post

What is Kadhi?
Kadhi or karhi is a gravy or a soup made using gram flour and sour curd/yogurt. The yogurt is generally mixed with water to make buttermilk and then mixed with gram flour. Consistency of kadhi varies and the ingredients added to it too. However the base ingredients are the same.
Variation of Kadhi
Each state in India has its own variety of kadhi. For example from the north side, UP and Rajasthan like to make it more thick. It can be either this Pakodi Ki Kadhi, or Papad ki kadhi, mangodi ki kadhi, boondi ki kadhi or just plain kadhi which would be less thick.
Punjabi kadhi is again on the thicker side with pakoras made using gram flour or onion. Then Gujarati kadhi has a sweetish touch to it. It is more smooth and like a soup and would not have pakoras added to it. Another version, Bhindi ni kadhi is very famous from the state of Gujarat.
Takachi kadhi – Maharashtrian Kadhi
Then as we come in Maharashtra, this Takachi kadhi or Dahi kadhi is a light and refreshing kadhi made using buttermilk. Here the main ingredient is yogurt. I.e we add more yogurt then gram flour and make it smooth and more watery. It is a perfect summer drink as it is very light and refreshing.
I learnt this dahi kadhi by seeing my mother in law make it. This was a favourite with my father in law. We love it whenever she makes it. I remember asking her to make this kadhi whenever I can. Then I used to watch her making and learn the tricks.
In my version of Pakodi Ki Kadhi, we do not add any garlic and it is more thick. But this Takachi kadhi or Buttermilk Kadhi has a nice tadka from ginger, garlic, green chillies and curry leaves. The garlic really gives it a kick and helps in digestion.
Another thing in this kadhi is that the curd needs to be sour. It will add that required sourness to the kadhi and the garlic would give it a nice kick. So do not shy away from adding a good amount of sour curd and generous amount of garlic.
Is Kadhi good for your body
Kadhi can help you improve digestion due to the presence of good bacteria in yogurt. Due to its rich probiotic content it makes it good for the gut and helps in warding off metabolism related issues. Dahi is also good for bones. Besan is known to be protein-rich and is termed good for weight-loss.
So enjoy this Maharashtrian Kadhi or Takachi Kadhi which is a perfect and light summer soup. Pair it along with rice, papad or pickle. Or Enjoy this as a soup along with the different veggies and roti.
So here goes the recipe Maharashtrian Kadhi or Takachi Kadhi or Dahi Kadhi:
Takachi kadhi – Maharashtrian Kadhi – Dahi Kadhi
Takachi Kadhi or Maharashtrian kadhi is a light and refreshing Kadhi made using yogurt as the main ingredient and besan (Gram flour).
Print
Pin
Rate
Save
Saved!
Ingredients
1

tablespoon

of Besan / Gram Flour

1

Cup

of Sour Curd/Yogurt

8-10

fresh curry leaves

1

tablespoon

of grated/minced ginger

(Around ½ an inch)

1

tablespoon

of grated/minced garlic

(Around 7-8 small, or 2-3 big size garlic cloves)

1

teaspoon

Mustard Seeds

1/2

teaspoon

of turmeric powder

(or fresh grated turmeric)

2-3

green chillies finely chopped

(I have not added)

Salt to taste

Water as required

Red chilly powder as required

1

tablespoon

Oil

A pinch of Asafoetida/Hing

(**Please see notes for gluten-free)
Instructions
In a medium size bowl add in the Besan and yogurt and make a smooth paste.

Slowly add water to the mix and keep on mixing to make it lump free and smooth consistency.

One can either make buttermilk before and add to the besan mix. Either way is fine.

Now in a heavy bottom pot add the Oil.

Once hot, add in the mustard seeds, and curry leaves.

Let the mustard seeds crackle.

Now add in the grated ginger, grated garlic, green chilli and saute for 1-2 minutes on medium.

If using fresh turmeric add it in the previous step.

Now add the yogurt besan / buttermilk mixture and let the mixture come to a boil on medium.

Keep on stirring in between,else the besan will stick to the bottom of the pan.

Once you get a boil add in the turmeric powder and salt and let this cook on slow for at least 10 minutes.

This will cook the besan/ gram flour thoroughly.

Once done, switch off.

Enjoy it hot with a garnish of coriander.
Notes
1 Cup = 240 ml, 1 tbsp = 15 ml, 1 tsp = 5 ml
Asafoetida (Hing) powder available in shops contains wheat and is not gluten free. Gluten intolerant people can either skip completely or opt for Gluten Free Asafoetida (Hing)
I have not added green chillies as my kids do not eat it then.
To make Vegan Kadhi, use Vegan yogurt. (The taste would differ)
This is naturally gluten free except if one uses pure gluten free Asafoteida.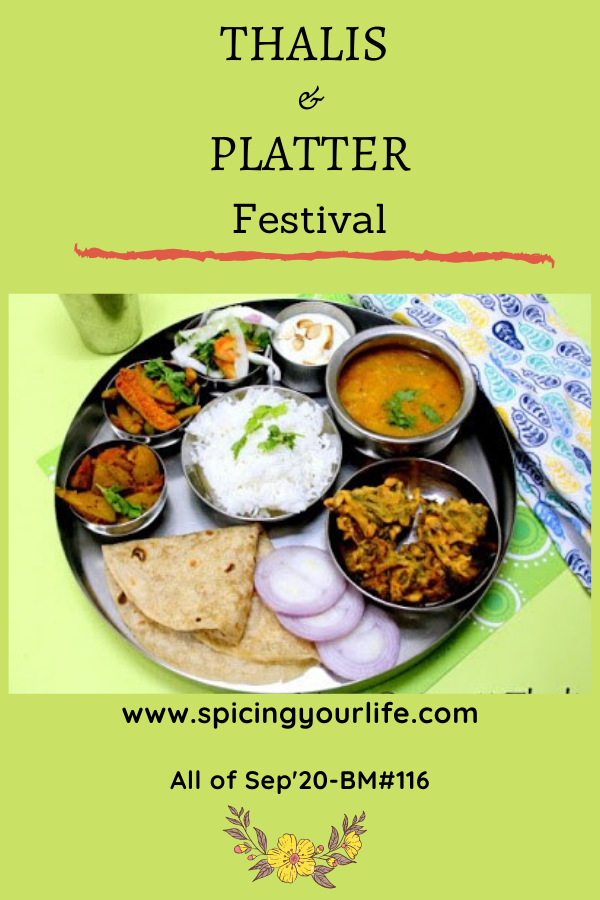 Check out the Blogging Marathon page for the other Blogging Marathoners doing BM#116
If you tried this recipe, please comment and rate the recipe. Tag me at @cookwithrenu_ad on Instagram.
Subscribe to my email list to get the new recipes straight into your mailbox.