Rajasthani Dal Baati churma is a traditional delicacy from the state of Rajasthan and one of the most popular meals. It consists of Dal (any combination of dal or lentils), Baati i.e. breads or rolls made using wheat flour and lastly churma, a sweet made using the baati.
This post may contain affiliate links· Please read our Privacy Policy for details. You can jump to the recipe, but you will miss the tips and tricks mentioned in the post.  
As a kid I never liked Dal Baati. When it used to be made or during functions and festivals, when people use to force to eat, I used to run away. Reason being it used to be laden with ghee. Yes the proper way of eating the baati is to soak it in ghee and then enjoy it with the dal. As a kid, I never liked ghee and hence never liked this dish.
But things changed and I started enjoying it, but yes till date I have never dumped the baati completely in ghee. Though I enjoy ghee now in small portions or in my ways. So when I made this Dal Baati churma I thoroughly enjoyed it with all the ghee, dal and the churma.
So starting this week with the new theme for the month-long BM Thali fest. This week my theme is Thali's featuring Indian flatbreads. So my first thali featuring Indian flatbread is none other than a thali from my ancestors place, Rajasthani Dal Baati Churma. Last week I have shared Simple Everyday thali's and you can check all my Thali's here.
Traditional recipes from Rajasthani Cuisine
Think of Rajasthani cuisine and the few first few traditional recipes that comes to your mind is this Dal Baati churma, Gatte ki Sabji, Gatta ka Pulav, Moong Dal Pakoda, Mirchi Vada, Ghevar, Malpua, Moong Dal Halwa, panchmel dal etc.
So what exactly is Dal, Baati, Churma
Dal
Any combination of lentils or dal can be used to make this dal. Generally panchmel dal or chaar dal is made. Today, I have made this dal with a combination of Chana dal and Hari chilkewali dal. I.e. Bengal gram and green split moong dal.
Dal has to be spicy and flavourful bursting with flavours from the different spices. I have also done a generous tadka using ginger, garlic, green chillies and a few spices.
Baati
Baatis are the flatbreads or rolls as you call. They are made using whole wheat flour. Generally made in a tandoor. I do not have a tandoor so I made them in an oven as well as in a pressure cooker. Both the methods had the same result, but I would go with the oven method as it takes less time then the pressure cooker method.
The baati's once cooked are soaked in ghee. And you will be amazed at the amount of ghee the bati absorbs. The baatis are then eaten along with the dal.
Baati's can be stuffed too and can be made using different flours. But the basic or the traditional baati is made using whole wheat flour.
Churma
Churma is nothing but the sweet made from the baati. Basic churma has the baatis crushed and sugar added to it. It pairs well with the spicy and savory dal baati.
Recipe process of Baati
The baatis are made using whole wheat flour, i.e. atta. Few even add semolina to the dough to get more crispier baati. Then the key to good baati's is a good or generous amount of ghee added in the flour. A test if the ghee is right, is once you mix it in flour and when you press the flour in your fist it should form a lump. If not you can add more ghee.
The dough needed for the baat's is more on the stiff side. If you make a soft dough the baatis will not be crisp and they will not have the desired texture. Then comes the next task of rolling or shaping them into small balls. An indentation is made in the center so that it evenly cooks from all the sides.

Baking in Oven
As said this traditionally is cooked in tandoor, but I have baked the baati's in the oven. Before baking, I added ghee in the centre. Once half baked I turned it upside down and brushed the other side with ghee and baked it again. They were done when they were very golden brown overall. It took me around 20-30 minutes.
Cooking in Pressure Cooker
I also made 2 baati's in the pressure cooker as everyone does not have an oven and I wanted to test it. I would say the results were the same but pressure cooking took a lot of time. Secondly, it required a lot of babysitting. That is I had to turn it frequently so that it cooks evenly on all sides. So if you have a large batch I would advise to go with either a large pressure cooker or tandoor. For me, the oven is the best for this.
Rajasthani Dal Baati Churma (In oven & Pressure Cooker)
Rajasthani Dal Baati churma is a traditional delicacy from the state of Rajasthan and one of the most popular meals consisting of lentils, Whole Wheat bread/rolls & Churma a sweet.
Print
Pin
Rate
Save
Saved!
Equipment
Oven / Pressure Cooker / Appe Pan
Ingredients
For the Baati
2

Cups

flour

1

teaspoon

of carom seeds

¼

cup

or more ghee melted and at room temperature.

A pinch of baking soda

(Optional – But advisable to make soft baati's)

Salt to taste

Water to knead the dough

(at room temperature)

1/2

Cup

(Extra ghee for baking and soaking the baati's before serving.)
Instructions
For the Baati
In a large bowl add in the flour.

Lightly crush the carom seeds in between your hands.

Now add the ghee, salt, baking soda and mix everything.

Try to form a lump of flour in between your hands. If you are unable to form a lump add more ghee a tablespoon at a time.

Now make a tight and stiff dough.

Let the dough rest for 15 minutes.

After the dough has rested, divide the dough in equal portions.

Now make lemon size balls from it.

Pull the dough from all ends and bring it in the center. Now roll and press it in between your hands. (As crack free as you can).

Make a dent in the center. Add a few drops or ghee in all or brush the top with ghee.
Oven Method
Preheat the oven to 180 Deg C.

Bake this in a preheated oven for 10 minutes.

Flip the baati's, brush with ghee and again bake in the oven for 10 minutes or until it is golden brown all over.

Once done remove from the oven, and brush it with ghee again.
Pressure Cooker Method
Remove the whistle of the cooker.

Preheat an empty cooker. (around 8-10 minutes)

Once the cooker is hot, add a spoonful of ghee.

Add the baatis's and let this cook on slow turning in between.

Cook it till it is golden brown on all the sides. It will take around 40-45 minutes in the pressure cooker to evenly cook from all the sids.

Before serving generously add ghee over the baati's and serve it with dal. (Typically it has to be dumped in a bowl full of ghee and let it soak for a few minutes)
Notes
1 Cup = 235 ml, 1 tbsp= 15 ml, 1 tsp = 5 ml
The Baati's can be cooked in an appe pan too. Just cook each baati in individual appe holes.
I have not added semolina/Rava in this, but one can add ¼ cup if required.
The dough for baati should be stiff.
I would be updating this post with the Dal and Churma recipe in the next month. Until then please bear with me.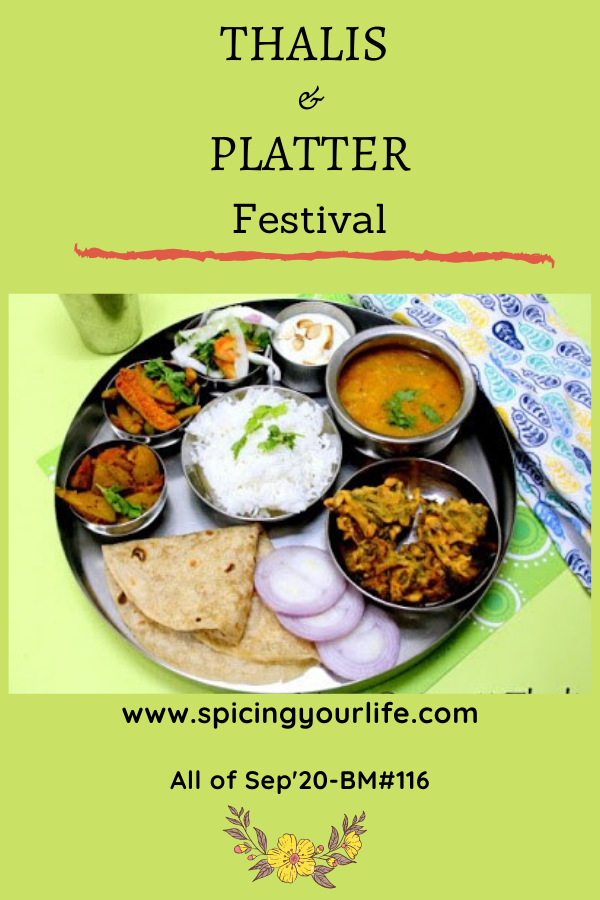 Check out the Blogging Marathon page for the other Blogging Marathoners doing BM#116
If you tried this recipe, please comment and rate the recipe. Tag me at @cookwithrenu_ad on Instagram.
Subscribe to my email list to get the new recipes straight into your mailbox.