Easy Steamed Meal Platter is another interesting and hit party platter, which is healthy, nutritious, and is Vegan. I have included here everyone's favorite Idli, Kothimbir Vadi, Chana Dal Bafuri, and Dhokla.


This post may contain affiliate links· Please read our Privacy Policy for details.
You can jump to the recipe, but you will miss the tips and tricks mentioned in the post


Steamed recipes are one of my favorite types of recipes. Quick to make, healthy, and uses minimum oil. Another reason they are my favorite is you put it on the stove to steam and forget it for 10-15 minutes. In the meantime, you can do some other task. Yes, time management and planning are the key for a working mom and I really look forward to such recipes.
Gluten-Free (Disclaimer)
These snacks are even gluten-free if one uses Gluten-free Asafotedia. Store brought asafoetida powder is not gluten-free, so please keep that in mind. As I use the asafoetida in the rock form or its purest form, I have the gluten-free version. You can skip the asafoetida completely if required.
Make-ahead meals for a crowd
These steamed dishes are also a hit when you have guests or you have to serve a lot of people or for your get-togethers. Either you make it ahead of time and just warm it before serving or you can make it when your guest arrives. As they do not need much babysitting you are free to attend your guest.
Kids Party Ideas
Will this Easy Steamed Meal Platter be a hit in your kids party? Yes, why not. Kids love such finger foods and especially when they have different shapes. You can experiment in this with different small sizes and serve them on cocktail sticks. Add some colorful veggies to this or serve them with some ketchup. Kids are sure to attract.
Vegan and Gluten-Free Steamed Snacks from the Different States of India
Did you notice that I have included here dishes from different Indian states? Just wanted to diversify. So, Idli is from South of India, Kothimbir Vadi from Maharashtra India, Bafuri from Chattisgarh, and Dhokla from Gujarat. An interesting thing to note here is all are healthy vegan and gluten-free dishes. They have a balance of carbs and proteins and can be served for Breakfast, Snack, or for your main meals.
Though the dhokla was made from my Mix Lentils and Beans Chilla (Pancake Batter) with a bit of modification. And yes you can make pancakes too from the same batter of Dhokla, and dosa from idli batter.
Today's Steamed Meal Platter has –
Idli – Idli as you all know is a steamed breakfast or meal made using rice and lentils. I.e. a mix of rice, urad dal, and fenugreek. The basic or the most common Idli recipe can be found here. I have smeared the Idli with ghee and Idli Podi.
Also you can find a few rice-free idlis or more than 10 idli varieties here. And if you are struggling to ferment the batter in a cold climate check out my detailed post on how to do so.
Kothimbir Vadi – A delicious, healthy protein-rich snack made using Kothimbir i.e. Coriander, gram flour, and a few spices. This Vadi is one of the famous snacks from the state of Maharashtra. Traditionally once steamed, these vadi's are fried, but I generally enjoy this steamed only. At times I like to shallow fry it with minimum oil to have some crunch for our tea time snack. I have many variations to this recipe, I will share it soon.
Steamed Chana Dal Bafauri – Another vegan, gluten-free, and high protein snack recipe from the State of Chattisgarh, India. This Bafauri is made using high protein Chana Dal, which is soaked, and then a batter is made along with a few spices. They are a perfect alternative to some fried pakoda's.
Mix Lentils and Beans Veggie Dhokla – Lastly this Mix lentils and beans veggie dhokla has all the healthy ingredients from the different lentils/beans I can think of or available in my pantry. I have used my base recipe of Mix Lentils and Beans Chilla (pancake) to make this dhokla. To add some veggies, I added some grated bottle gourd to this and steamed it in the form of Dhokla. They were best as is, but a little shallow frying or a tadka on the dhokla would do no harm.
Serving Suggestions
I have served this with simple Tomato Ketchup and Green Tomato Chutney. You can enjoy it with Chutney of your choice.
I am sharing this with our Month Long Thali and Platter Marathon, where I would be sharing platters this week. I have earlier shared Crispy Baked French Fries Platter and Protein-Packed Chilla Platter, which is again a favorite party appetizer.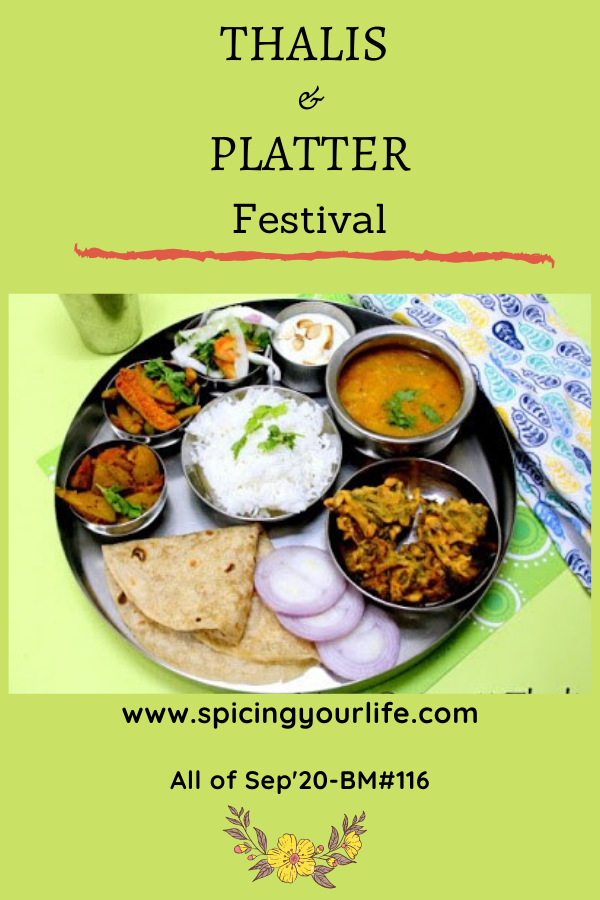 Check out the Blogging Marathon page for the other Blogging Marathoners doing BM#116
Love to read your comments and feedback. If you have any questions please ask in the comment section. I will try to answer as soon as I can.
If you tried this recipe, please comment and rate the recipe. Tag me at @cookwithrenu_ad on Instagram.
Subscribe to my email list to get the new recipes straight into your mailbox.