So the next everyday thali today is Fasting – Vrat – Farali Thali, which is also a complete gluten-free thali. This farali or satvik thali is a complete balanced meal with carbs, proteins and healthy fats.
This post may contain affiliate links· Please read our Privacy Policy for details. You can jump to the recipe, but you will miss the tips and tricks mentioned in the post.  
Some of you might be wondering how is this a regular or everyday thali? Well because many of us keep fast weekly or even twice a week for religious reasons or just to give our body a break. Many like to eat light meals or proper satvik meals, so I thought of making this thali.
What Fasting means to me
Well for me fasting means to give your body a break from all the mindless eating. My dad always says this and I completely believe in it. I believe Indian fast are there so that people can take a break from all the mindless eating and detoxify. Though sometimes it happens that just because it is fast we feed ourselves with fried foods, or at times it is assumed that as it is fast we should eat fried food.

Fasting/Vrat Food can be healthy too
No fasting food can be healthy too. Like instead of making sabudana vada one can make Sabudana Pancake/Fritters . No, I am not saying that one should avoid fried foods completely. Occasionally we can indulge but we need to find healthier options especially when the purpose of fast is to detoxify.
So while I was fasting I decided to make this healthy and delicious thali. This coincidentally also happens to be a completely gluten-free thali or a meal. So those thinking gluten-free food cannot be yummy and delicious, just look at this thali and I am sure you will love it.
My thali has gluten-free Farali Singhara Paratha, Rajgira (Amaranth) kadhi from homemade Rajgira flour. Few pieces of paneer which is shallow fried in ghee to give you the necessary proteins and fats. Curd to hydrate and lastly halwa made using singhara and kuttu.

I have tried to use all the different combinations of flour in this thali because I wanted to give all the variety I can.
Singhara or Water Chestnut flour
Singhara flour is made from dried water chestnuts. It is naturally a gluten-free flour and a good source of carbs. I have detailed this more in my earlier post on Farali Singhara Paratha.
Rajgira or Amaranth flour
Rajgira flour is again made from gluten-free grain called Rajgira. Commonly used in Asian cuisine and especially during the vrat/upvas. I have again detailed more about this in my earlier post on Rajgira (Amaranth) kadhi or in this Chocolate Puffed Amaranth Bars.
Kuttu or Buckwheat flour
Kuttu flour, the next gluten free flour is loaded with nutrients too. It is made from pseudo cereal. Both the grain and the flour is used in cooking. Grain can be used in cooking as in this Buckwheat Groats Pancake or Kuttu ke atte ka cheela and this Buckwheat Khichdi or Farali Kuttu ki Khichdi. Buckwheat flour can be used as a thickener, one can make bread, porridge, and healthy breakfast like this Farali Kuttu aur Singhara ka Dhokla.
YouTube Channel
So my Fasting thali or Farali Thali or Vrat ki thali has :
Singhara and Kuttu ke atte ka halwa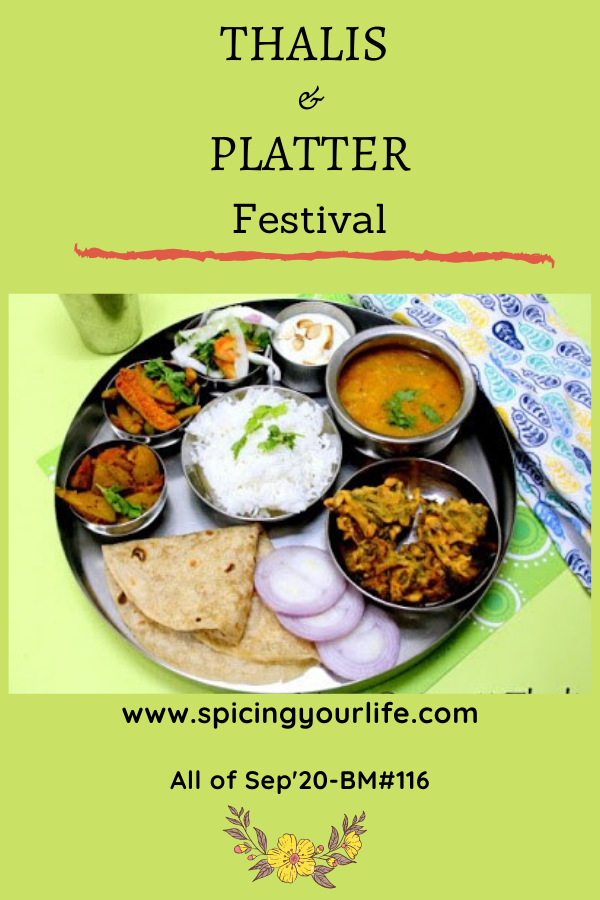 Check out the Blogging Marathon page for the other Blogging Marathoners doing BM#116
If you tried this recipe, please comment and rate the recipe. Tag me at @cookwithrenu_ad on Instagram.
Subscribe to my email list to get the new recipes straight into your mailbox.