Mishti Doi is a classic Bengali sweet made using milk, yogurt culture, and Jaggery/sugar. Misthi means sweet and Doi means yogurt, so in short, it can be called sweetened yogurt. Today I am making Mishti Doi in Instant Pot using Evaporated Milk.
This post may contain affiliate links· Please read our Privacy Policy for details. You can jump to the recipe, but you will miss the tips and tricks mentioned in the post

Difference between Normal Yogurt and Mishti Doi
The difference between normal yoghurt and Mishti Doi is that the first Mishti Doi is sweetened. Secondly, it is made of thickened milk. That is the milk is reduced and thicken and then the sweetener and yoghurt are being added. As the milk is reduced it adds a nice rich and luxurious taste to the yoghurt.
It is best to make yoghurt in earthen pots. The earthen pots help in removing the excess moisture from the yoghurt and it is set nice and thick. It even helps to set the right temperature to set the yogurt. Hence traditionally yogurts are set in earthen pots.
Misthi Doi and Bhapa Doi
Another modified form of Mishti Doi is Bhapa Doi. Here the curd culture is mixed with milk and either baked or steamed on the stovetop. So there is a difference between the two types of yoghurt and the way it is set.
Flavors in Mishti Doi
Mishti Doi is generally not flavoured, but some add cardamom to give it a nice flavour. Then again with fusions, you can have different types of fruit or spice-infused yoghurt. The possibilities are endless.
Homemade Yogurt
I love homemade yoghurt. As the taste and texture are different from the store-bought ones. Also, homemade yoghurt has that taste and after 3-4 days it has that sourness that is required in a lot of Indian dishes. Hence I prefer to make yoghurt at home.
Mishti Doi in Instant Pot
But, If you are living in a cold climate setting yoghurt is a difficult task. I have tried setting it in different ways. Like using a blanket, or setting it up in the oven. It does set but at times the yoghurt becomes slimy as it takes long hours to set. So my Instant Pot comes to the rescue. I have made this Mishti Doi in Instant Pot and it was set perfectly and within time. It was nice and thick with the perfect texture.
Recipe Process of Mishti Doi
I have also used Evaporated Milk tin, instead of reducing the milk to half on the stovetop. It helped me save around 40-60 minutes reducing milk. Of course, you can use normal milk and reduce it, but Evaporated milk is the same and hence I preferred that.
All I did was boil the evaporated milk. This was just to add some cream to the milk. Then let it cool down a bit. Added jaggery to it and mixed it. Remember jaggery should never be added in hot milk as it will curdle the milk.
Once the temperature of the milk has come down further, i.e something like lukewarm, and you are able to touch it with your finger, add in the yoghurt culture. Give it a nice mix. I like to use a whisker to mix it properly and even incorporate some air in the mixture, which helps in setting up thick milk. I then added cardamom powder to give it a nice flavour. You can skip it if required. Rest I let it sit in the Instant pot under Yogurt mode for 8 hours. Once done, I let it cool in the refrigerator to set it further. That's it you can enjoy it nice and cool.
Check out how thick it turned out, in the video and pic below.
Few more Bengali Recipes on my blog
Mishti Doi in Instant Pot using Evaporated Milk
Mishti Doi in Instant Pot using Evaporated Milk is an easy, quick and a classic Bengali sweet yogurt, sweetened with Jaggery.
Print
Pin
Rate
Save
Saved!
Equipment
Pot/Container (To set yogurt)
Ingredients
1

Can Evaporated Milk

– 400 grams

2

tablespoon

of yogurt culture

⅓

cup

35 grams of Powdered Jaggery

½

teaspoon

cardamom powder
Instructions
In a heavy bottom, pot add in the evaporated milk.

On a slow stovetop, let the milk come to a boil.

Once boiled let it cool down slightly. (around 8-10 minutes)

After 8-10 minutes add in the powdered jaggery and mix it until the jaggery is dissolved.

The temperature of the milk will reduce further.

Once you have achieved a lukewarm temperature, i.e. around 48 Deg C add in the yogurt.

I generally check it simply by dipping a clean finger. If able to touch it I add the yogurt. I have added the temperature here, for my readers who are unable to do so.

Add in the cardamom powder if using, and slightly mix.

Mix the yogurt culture in the milk using a whisk until it is all mixed.

Now pour the mixture in individual pots or 1 single pot as you prefer.

Cover with a plate or an aluminum foil.

If setting, without Instant Pot, Let it sit in a warm place undisturbed for 8-10 hours or best overnight.
Instant Pot Method
Switch on the Instant pot. Add around 1 cup of water in the insert.

Put the pots inside the insert.

Set the instant pot on yogurt mode for 8 hours.

Close the lid and let the yogurt set.

Remove the pots.

Check the video above on how beautifully it has set. This was right after I removed the yogurt pots from the Instant pot
Cooling in the fridge after the yogurt is set
Once set, refrigerate in the fridge for a couple of hours.

Garnish with saffron and pistachio if required.

Serve it chilled.
Notes
1 Cup = 235 ml, 1 tbsp= 15 ml, 1 tsp = 5 ml
One can use normal milk and reduce it instead of using Evaporated milk.
In that case, reduce it to half. It is always advisable to use full-fat milk to set yogurt, to set it nice and thick.
One can add Sugar instead of Jaggery.
Jaggery should never be added in hot milk as it will curdle the milk.
Linking this with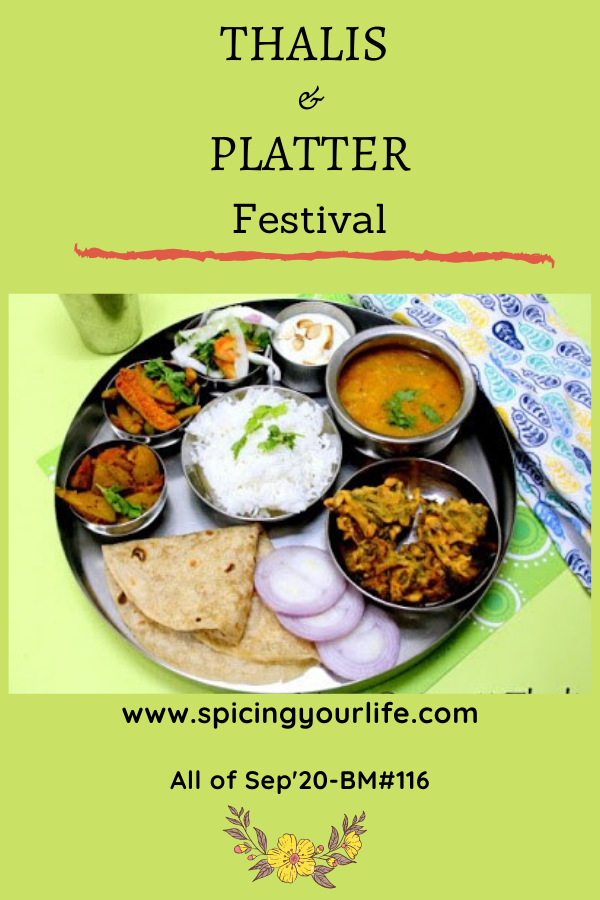 Check out the Blogging Marathon page for the other Blogging Marathoners doing BM#116
Love to read your comments and feedback. If you have any questions please ask in the comment section. I will try to answer as soon as I can.
If you tried this recipe, please comment below, and do not forget to rate the Recipe.
Also, I would love to see your creations, take a picture, and do tag me at @cookwithrenu using the hashtag #Cookwithrenu on Facebook, Twitter, and @cookwithrenu_ad on Instagram.
Subscribe to my email list to get the new recipes straight into your mailbox.