Today comes the thali from the state of Rajasthan. This Rajasthani Thali is a delicious thali which is made from pantry staple or cupboard ingredients and features less famous dishes of Rajasthan like Papad ki Kadhi and Mangodi ki sabji.
This post may contain affiliate links· Please read our Privacy Policy for details. You can jump to the recipe, but you will miss the tips and tricks mentioned in the post.  
Rajasthan is a state in north India and the land of kings. Though my native is now UP, just prior too 2 generations this was the land of my ancestors. Hence our food is Rajasthani as well as from UP cuisine. Learned from my mom and learning more and more each day.
Rajasthan is an arid region. It was influenced by war-like inhabitants, or travellers from the business community. Also due to the non availability of fresh ingredients one needs to cook food which requires minimum reheating or can be consumed for days. So making food items using pantry or cupboard ingredients was a must at times.
Though non-vegetarian food is equally famous, from the Rajput cuisine who were predominantly non-vegetarians. However the Maheshwari, Vaishnavas had a vegetarian diet. Vaishnav dhabas or Marwari Bhojnalaya are quite famous in the north India for Vegetarian restaurants.
I wanted to showcase the real essence of Rajasthan. That is how they make food without any fresh ingredients available. Hence I decided to make this thali from all the cupboard ingredients available at home except for the mirchi vada and salad. I included mirchi vada only and only for my husband as he wanted to enjoy it.
This thali is a complete no onion no garlic thali, except for the salad served. What I mean here is that the recipes made are without onion and garlic. Though onion and garlic is used in Rajasthani cuisine, I prefer to show our style of cooking here and to show that food can be tasty without onion and garlic too.
Yes you really do not need any fresh vegetables to make a lip-smacking and a full meal. With a bit of planning this thali can be made in no time. And the current crisis did teach us that we can make a lot of meals without the availability of fresh ingredients. Right?
My Thalis
Again like my other Regional thalis, Gujarati Thali and the Vegetarian Punjabi Thali, I have kept this thali light on the tummy. I wanted to make Ghevar or Imarti but it has to wait a bit. However if you want to try another famous breakfast/brunch or main meal thali from the state of Rajasthan, try this Rajasthani Dal Baati Churma Thali.
I am sharing this as my third thali for our month long BM where we bloggers are sharing Everyday Thalis, Breakfast Thalis, Platters, Thalis Featuring flatbreads and REgional thalis for the whole month of September.
So what is in my Rajasthani Thali today –
Boondi Raita – One of my favourites. Simple raita made using boondi. Boondi are fried chickpea balls or dumplings, which are soaked in water before adding it to the yogurt or curd. Get the recipe here on how to make Boondi Raita.
Mangodi Aloo ki sabji – A simple and delicious sabji made using dried lentils which are made using moong dal. A few spices along with potato makes it irresistible with some hot missi roti or Jeera rice.
Papad ki Kadhi – Tangy and yummy this Papad ki kadhi uses sour yogurt along with gram flour mix to make the kadhi. Cooked or uncooked papad is being added to the gravy to make this delicious Papad ki Kadhi. It is enjoyed with hot steaming rice or roti. I would be adding the recipe of this Papad ki Kadhi soon, until then you can check on this Pakodi ki Kadhi recipe which has a similar preparation.
Missi Roti & Sada Roti – For us Mangodi Aloo ki sabji is incomplete without missi roti. Also missi roti is generally made in our thalis when we have guests at home. So I made both the versions of roti miss and sada. These rotis are made phulka style. That is they are directly cooked on open flame. I do not have that, so I made them on a tawa, but added ghee later on. It almost tasted similar to our phulka roti.
Jodhpuri Mirchi Bada – A famous starter from Rajasthan. Yes this one uses fresh big green chillies. It has a stuffing of spicy potato mix which is then dipped in gram flour batter and fried. As it uses fresh green chillies, you can skip it if you do not have it. Hence I have included another starter as Pithore. Details below.
Pithore – Pithore is a healthy and delicious starter made using protein rich gram flour. The mixture is steamed and later a tadka is made using oil and mustard seeds. Even a sabji is made using pithore.
Moong Dal Halwa – Protein rich sweet made using moong dal and nutritious ghee. This moong dal halwa is healthy and delicious for all ages. I love making this with a bit of extra ghee and my family loves it. I have made this time only with milk , sugar and ghee and moong dal. However this recipe of Moong Dal halwa on my blog uses condensed milk to reduce the time a bit.
Jaljeera – Jaljeera a digestive drink made using fresh mint, coriander leaves and a few spices. This can also be made using Jaljeera powder which is easily available in shops.
Jeera Rice – A simple rice which goes well with Kadhi and Mangodi Aloo ki sabji. The Jeera rice here has a generous tadka of ghee and cumin seeds.
Papad Churi – Yummy, addictive and simple to make. Papad is lightly crushed, ghee, salt and a few spices are added and you have some yummy simple papad on the side.

All in all we completely enjoyed this thali together. Let me know what you like the best in this thali.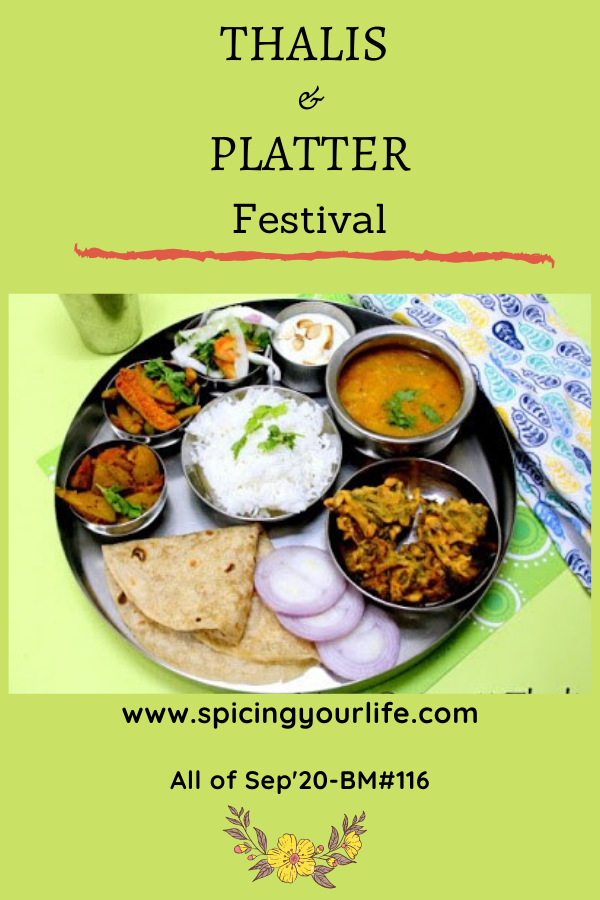 Check out the Blogging Marathon page for the other Blogging Marathoners doing BM#116
Love to read your comments and feedback. If you have any questions please ask in the comment section. I will try to answer as soon as I can.
If you tried this recipe, please comment below, and do not forget to rate the Recipe.
Also, I would love to see your creations, take a picture, and do tag me at @cookwithrenu using the hashtag #Cookwithrenu on Facebook, Twitter, and @cookwithrenu_ad on Instagram.
Subscribe to my email list to get the new recipes straight into your mailbox.