Today we are featuring yet another cuisine and this time it is my birth state, Maharashtra. Yes, we are virtually travelling to the state of Maharashtra today to represent yet another lip-smacking, spicy, sweet, and yummy Vegetarian Maharashtrian Thali.
A little about Maharashtra
Maharashtra the land of the Marathas, is located in the west and the central part of the country. It has a long coastline stretching across the Arabian Sea on the west. One of the most industrialized states in India with Mumbai the state capital and also the biggest financial and commercial capital.
Maharashtrian Cuisine
Maharashtrian cuisine is a mix of Vegetarian and non-vegetarian cuisine. Malvani and Konkani cuisine is famous non-vegetarian cuisines. As Maharasthra is on the coastal side, seafood and rice are staples and are more famous for this cuisine.
Then you have Maharashtrian Brahmins who have specialized in Vegetarian cuisine. In all, you have a mix of everything in Maharashtra.
The cuisine includes a blend of mild to spicy dishes. Khandeshi Cuisine from Maharashtra is known to be the hottest cuisine. Wheat, rice, Jowar, Bajri, and Fresh seasonal Vegetables are the staple food of Maharashtra.
Use of Seasonal & Local Ingredients
As it lies on the coastal stretch hence use of fresh coconut is quite common in most of the dishes. Peanuts, and fresh coconut are used to make fresh masala. Herbs like curry leaves and coriander leaves are used in tempering as well as a garnish.
Kothimbir Vadi, a famous snack made using fresh coriander leaves, is one of the most popular tea-time snack recipes. Another such famous recipe is this Squash Leaves Patra / Butternut Squash-Pumpkin Patra / Stuffed Squash Leaves roll, typically made using colocasia or taro root leaves I have made using my fresh homegrown Squash leaves.

Masala Used in Maharashtrian Cuisine
Then the use of special kala masala, goda masala , kanda lasoon masala is quite common. Each household will have its own variation. Few common spices are there in this masala, but yet they differ in taste and variations with a few minor differences.
Breakfast & Fast Food
Misal, Pohe, Upma, Sabudana Khichdi, Amboli, thalipeeth are a few of the common and typical breakfast menus. The famous Mumbai Vada Pav, Pav Bhaji, Bhelpuri are common fast foods in Mumbai.
Lunch
Lunch will generally be simple chapati, dal, rice (varan bhaat), amti or usal, dry vegetable, chutney, and koshimbir (salad). Matha (Buttermilk), Sol kadhi , Piyush are served as beverages.
Dinner
Dinner at times would be simple Varan bhaat, khichadi or chapati with seasonal bhaji. Different gluten free bhakris are made using Jowar, rice, and Bajra depending on the season. Considered to be light on the tummy for dinner.
Sweets
Day to day food might not have sweets. But there are a lot of famous sweets from this cuisine like Shrikhand, Basundi, Modak, Aamras, Dudhi Halwa, etc.
Gul Poli is another sweet flatbread that is consumed as a sweet or a snack. Puran Poli typically made during Holi is a sweet lentil stuffed flatbread. A delicious and healthy preparation is generally served with Katachi Amti.
This is just day to day, then you have special occasions and festive food. Special wedding food etc. There is a lot to write and I can go on and on, but I guess I need to stop here.
Mega Thali BM
So I started this Mega Thali BM with a Simple everyday North Indian Vegetarian Lunch Thali, the thali which I have grown up eating, and ended it with this Vegetarian Maharashtrian Thali.
Maharashtrian cuisine which I have learned being born and brought up in Mumbai and now married to a Maharashtrian. Both these cuisines are close to my heart and hence I thought to start with one and end with the other.
Pin it for later –

So My Today's Vegetarian Maharashtrian Thali has
Kothimbir Vadi

– Steamed snack made using fresh green coriander leaves and later on shallow fried or deep-fried.
Steamed White Rice – Simple white steamed rice
Bharli Vangi – Spicy and yummy eggplant or aubergine stuffed with coconut and spice mixture and cooked to perfection.
Batata Bhaji

– Simple and delicious vegetable made using potato.
Puran Poli

– Sweet lentil stuffed flatbread generally made using Holi, Diwali, or any festive gatherings.
Chapati – Simple whole wheat chapati or roti.
Coconut Coriander

Chutney – Spicy and lip-smacking chutney made using coconut, coriander, and garlic.
Thecha – 3 ingredients spicy and yummy chutney made using green chillies, garlic, and oil.
Koshimbir – A must salad in Maharashtrian Thali. A salad made using cucumber, tomato, green chilly along with yogurt/curd.
Home made Sabudana Papad – Homemade papad made using sabudana or Tapioca pearls.
Solkadhi – Beverage made using coconut, kokum, and a few spices. I could not get the traditional pink color that comes from the Kokum. Probably as it has been a bit old.
Sprouted Matki Usal – Usal or a spicy curry made using sprouted moong beans, cooked along with spicy onion and coconut paste.
Tomato Dal – Day to day dal made using toor dal along with tomato.
Katachi Amti

– A spicy, tangy, and sweet vegan curry made using leftover chana dal stock.
Ghee – To enjoy it along with Puran Poli or steamed rice
Linking this with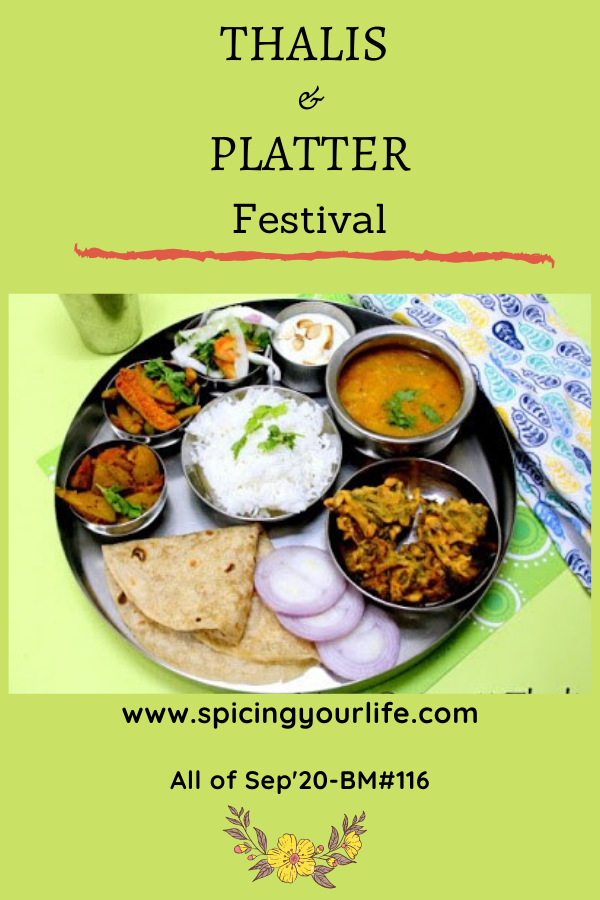 Check out the Blogging Marathon page for the other Blogging Marathoners doing BM#116
Love to read your comments and feedback. If you have any questions please ask in the comment section. I will try to answer as soon as I can.
If you tried this recipe, please comment below, and do not forget to rate the Recipe.
Also, I would love to see your creations, take a picture, and do tag me at @cookwithrenu using the hashtag #Cookwithrenu on Facebook, Twitter, and @cookwithrenu_ad on Instagram.
Subscribe to my email list to get the new recipes straight into your mailbox.