Vegetarian Thalis and Platters is a collection of 26 different vegetarian thalis featuring Indian and International platters, loved by all ages.
Even though it says 26 different thalis, this repository is a collection of more than 100 recipes. Some recipes are already added in individual thali post, few would be added slowly.
This post may contain affiliate links· Please read our Privacy Policy for details. You can jump to the recipe, but you will miss the tips and tricks mentioned in the post   

Thali/Platter?
Thali or platter refers to different kinds of dishes both vegetarian or non-vegetarian arranged in small katori (bowls). Any typical Indian thali will have roti, rice, sabzi, dal, salad, papad, and chaas/buttermilk.
Platters refer to the same thing where a meal or a course is served on a platter or a big dish or one or more small dishes.
Dishes & Flavours in Thali
The dishes served in a thali should complement each other. There should be a balance of carbs and proteins. Sweet, salty, spicy, sour flavors in a thali should be well balanced and complement. So elaborate thalis generally need a bit of planning. Day to day thalis or breakfast thalis will have dishes that would complement each other.
Thali BM
In the month of September, we decided to go for a Thali mega marathon. Doing a mega marathon needs planning and a thali BM is much more. As a thali has more dishes and needs a lot of planning to be executed well. However, all of us sailed through and we had a fantastic array of different thalis by each one.
This Thali BM was divided into themes for each week. So the first week I decided to go for Everyday Thalis. That is the food which we cook every day. Yes In India we would have a complete balanced meal of food and served in a thali. So here are my 4 Everyday mini thalis.
PS – Click on links below Blue color to go to Individual thali post
Everyday mini Thalis
The next theme was thalis featuring Indian Flatbreads from different states. That is where the main dish should be flatbreads. One of my favorite themes, as this is again everyday day to day food for me, but few of the dishes I wanted to put on my blog for long, and finally I was able to do it. So here are my thalis featuring Indian Flatbreads.
Thalis featuring Indian Flatbreads
The next week I decided to go with Breakfast Thalis. A few of these thalis can also be called as Brunch Thalis or Brunch weekend meals. As they are quite filling with some desserts or sweets served on the side. So here are my Breakfast Thalis from different States.
Breakfast Thalis from different States
The next theme was Platters. As said platter is food served on a large plate or a combination of plates. I choose to show here different kinds of platters, Indian as well as International Cuisine. I choose from healthy steamed, baked, protein-rich platters, to fried and baked platters. In all this was one of my favorite themes of all.
Platters
The next and the last theme was Thalis featuring Regional Cuisines. That is the perfect traditional thali. Regional elaborate thalis would generally be made on special occasions. Such thalis do have 1-2 starter, 2-3 sabzi, Rice, roti (depending on region), sweet, pickles, chutneys, beverages, etc.
This thali needed a lot of preparation and planning. For most of this thalis, I planned ahead of time and for regional thalis, the sweets and 1-2 dishes were even done a day before.
Thalis featuring Regional Cuisine – Regional Thalis
My Earlier Mega Marathon were –
A few more collection of recipes can be found here.
If you tried this recipe, please comment and rate the recipe. Tag me at @cookwithrenu_ad on Instagram.
Subscribe to my email list to get the new recipes straight into your mailbox.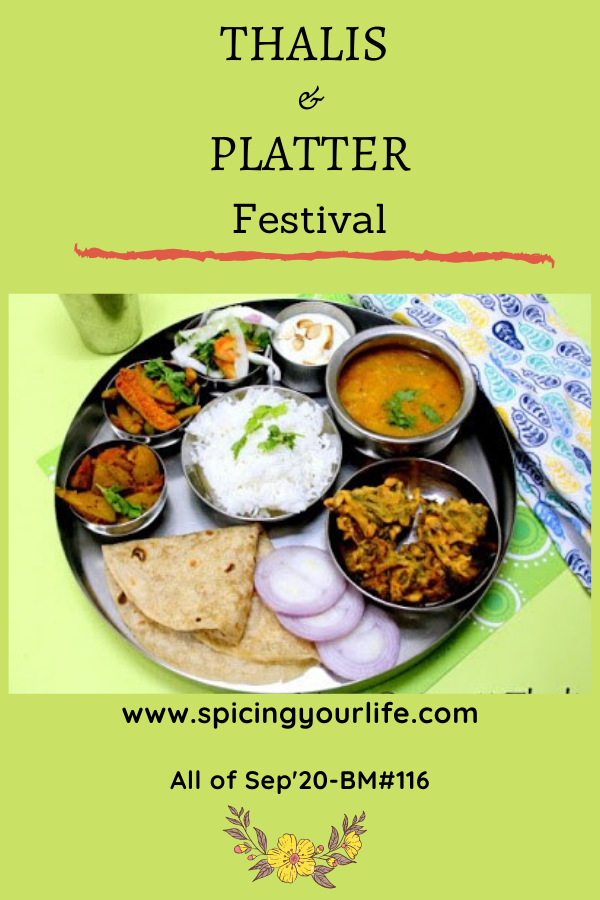 Check out the Blogging Marathon page for the other Blogging Marathoners doing BM#116